The Neighbourhoods.
Welcome to Mission
Situated on the northern banks of the Fraser River, Mission has scenery for days. To the north, rolling hills, lakes and mountains. Across the river to the south is Abbotsford, the big brother of the Fraser Valley. The Lougheed Highway goes straight through Mission. Head west on it and you'll reach Maple Ridge; east takes you further down the valley until you eventually reach Hope.
Mission itself is bigger than many people think. The historic downtown, bisected by the Lougheed Highway, is all that most people see as they pass through. But there are several other neighbourhoods to explore.
"Once you actually venture up into the hills, you discover there's quite a large community here," says McPherson. "It's a place where people come to get away from the city lifestyle."
What once was a community of single-family homes is evolving to meet the changing needs of its residents. These days, you'll find high-rise towers, townhomes and condos around the downtown core. For people after more space, there are many older homes north of downtown that have either been renovated already or are perfect for homeseekers after a fixer-upper.
However, even with new developments and a growing population, Mission still maintains its chilled out vibe.
"It offers a lot of outdoor opportunities," says McPherson. "Being in places where there aren't a lot of people - that's what people want, to go where people aren't. That's one of the best things about Mission - it's kind of low key."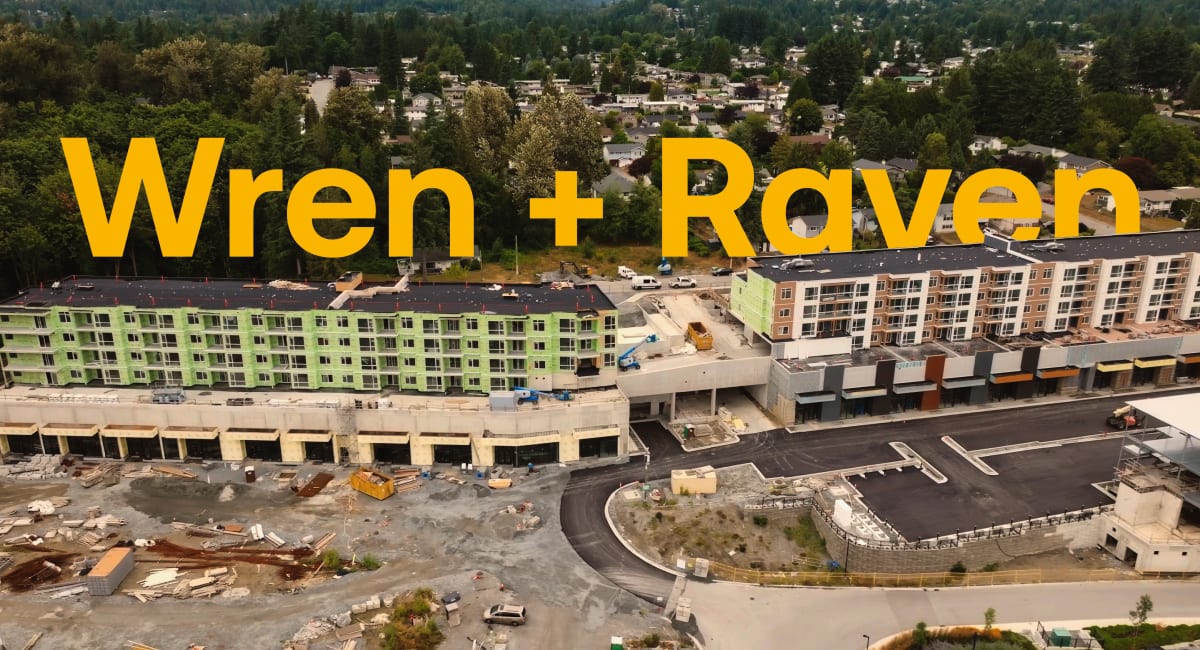 Wren + Raven
Mission's newest neighbourhood may still be under construction, but that hasn't stopped locals from dubbing the new Wren + Raven development the 'Gateway to Mission". With 130 condos and commercial units on the way, Wren + Raven is a huge opportunity for first-time buyers.
"This might be something that people from Vancouver see every day," says McPherson, "but for a small town like this, it's a sign of things to come and it's quite exciting."
Wren + Raven truly is a sign of things to come. Heading west to Maple Ridge, you'll find the site of the Silverdale Development Area, a massive master-planned community that will eventually increase Mission's population by around 50 to 60 percent.
"When you're going to add 25,000 people to a community, it's going to take time," McPherson explains. "This is going to be a 15 to 20 year project. We're just in the infancy of it. So in our lifetime, we're going to see some big changes here in Mission."
It may be several years away, but thousands of new single-family homes, townhomes and apartments are being built. Mission really is a community to watch.
Heritage Park
Mission's largest park has a complicated past. It was once the site of St Mary's residential school, where indigenous children were separated from their families and forced to abandon their cultures and ways of life. Many were abused and many died. The school didn't close until 1984.
Today, Heritage Park stands as a reminder of what happened. The City of Mission partners with local indigenous groups to host an annual Indigenous Day in the park in order to reconcile what happened and celebrate indigenous culture, traditions and contributions.
McPherson says events like these are what makes the park such an important space for Mission. "This is protected land," he says. "This is always going to be this way, so you know that you can come here for the next 50 years and what you see is what you get."
On each side of the park are single-family homes on large lots. So while there are options for homeowners, they are limited due to the protected nature of the area.
Downtown Mission
Our final stop in Mission is the downtown core itself. Until recently, nostalgia reigned supreme here but changes are afoot.
"Downtown, since I was a kid, has remained a lot the same," says McPherson. "We do have a highway coming through so it definitely restricts change. But what you are seeing is a lot of new business coming in, bringing revitalization into downtown and giving it a little bit more of that quaint, cutesy look that I think people are into these days."
Part of that revitalization includes high-rise buildings reserved for renters, as well as other affordable housing options. This densification is bringing in new, younger residents who are looking for access to both the city and nature.
Head north from downtown and you'll find a good selection of older homes that people are fixing up and making new again.
Our Guide
Taylor McPherson
Top Producers Realty Ltd.
Bio
Taylor McPherson is a third-generation Missionite with a lot of love for his town. Realty runs in the family - Taylor's mother Mindy has actually been the top agent in the Fraser Valley Real Estate Board for 40 years.
That said, Taylor says his first career choice was actually farming. "Selling a house and selling a carrot isn't that different, right? No, I'm joking."
Jokes aside, Taylor's connection to his community and the land gave him an edge when he decided to make the switch to real estate.
"Yes they are two very different worlds but the commonality is working with people," he says.
Quote
" "
This is the place where people come to make memories.
Taylor McPherson
Top Producers Realty Ltd.
Living Here
Agent's Pick:
2nd Avenue Heritage Home
For a taste of life in Mission, we stop at a beautifully restored heritage-style home right outside the downtown core.
Built in 1928, this is a great example of what homeseekers can find if they're willing to put some work into the property.
"You may need to rework it a little bit because they did things differently back then," says McPherson, "but typically you're going to get really good bones and lots of longevity."
Taylor McPherson
Explore homes in Mission
Mission Listings
Taylors Listings
Related Neighbourhood Listings
---
Behind the scenes with Stephen.
Ah Mission, will I live to regret calling you the armpit of the Fraser Valley? Absolutely! The death threats are already pouring in. For the record, what I said is that OTHER people call it that. My time in Mission was less armpit and more chiseled biceps.
With the aim of doubling its population over the next 20 years, Mission is the place to be for up and coming new communities. That's not to say what is there right now should be discredited, though. From Heritage Park to downtown, Mission really does have something to offer anyone who wants to escape the rat race and own their own home.
Like our guide Taylor says, if you're looking for a place to raise a family and get some peace and quiet, Mission is the place for you. And who knows, maybe you'll end up buying carrots from Taylor at the farmers market - after you buy that house from him, of course!
Never miss an episode.
Subscribe to our newsletter to get the latest on RealTours.