The Neighbourhoods.
Welcome to the Coquitlam
Coquitlam's geographic shape is said to look like a tilted hourglass, with two larger chunks of land connected by a narrow section in the middle. To the west is Burnaby, Port Moody and New Westminster. To the east, Port Coquitlam and the Pitt River, with the Fraser River making up the southern border. The northern edge of the city disappears into wilderness and it's not uncommon for wildlife like bears and deer to rub shoulders with the locals (editor's note: please don't actually rub shoulders with bears).
It's that proximity to nature that attracts so many of Coquitlam's residents. Hiking and biking trails snake through the local forests, and regional parks offer great family picnic spots. For the fans of more organized outdoor fun, there are a number of popular golf courses on offer.
A culture of single-family neighborhoods is slowly being challenged as Coquitlam looks for ways to densify and cope with a rising population. New condo towers are under construction, mainly along the SkyTrain corridor, and previously low-density communities are building low rises and townhomes.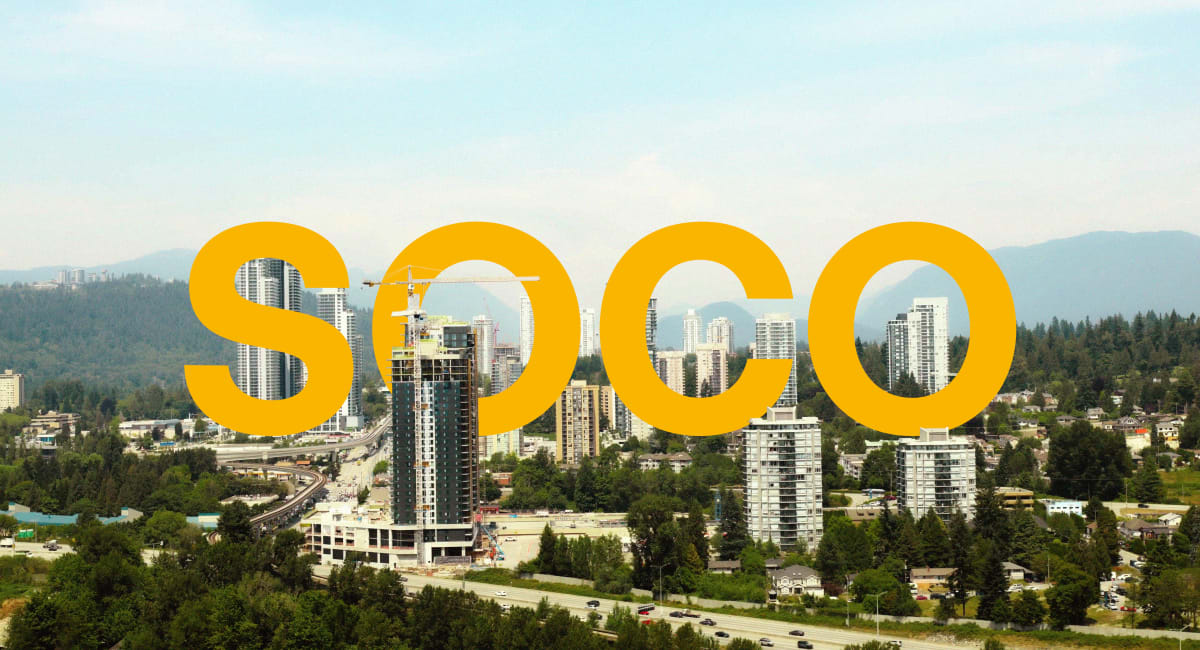 SOCO
To kick off our tour, Lapp takes us to the newly-named SOCO neighbourhood, a new urban community hub within walking distance to the Lougheed Town Centre shopping area and Skytrain station. Previously part of Coquitlam West, SOCO's rebrand is attracting first-time buyers and people who want that urban vibe without downtown Vancouver prices.
"The energy in SOCO is definitely very urban," says Lapp. "And the reason? It has high rises, close access to transit and quick access to Vancouver. But the developers are also wanting to create an encompassing environment within where you live."
That encompassing environment means immediate access to retail and office space, as well as local shops and restaurants. Eventually, seven towers will make up the main SOCO community, creating space for thousands of homeseekers.

Coquitlam Town Centre
Not to be outdone, Coquitlam Town Centre has also caught the rezoning bug. A total of 18 towers are planned for two sites in the area, which will house up to 15,000 residents. Given the proximity to shopping, transit and parks, this push for multifamily housing will create new opportunities for homeseekers and a more urban culture for residents.
"It's really about adapting to the needs of buyers and people who want to come and live in Coquitlam by giving them more housing options," Lapp explains.
However, this part of Coquitlam is not all high rises and condos. There are still many nearby neighbourhoods, such as New Horizons and Scott Creek, that cater to families looking for detached homes with quick access to the mountains.
"This is a wonderful example of living in an established neighbourhood," says Lapp. "You have lots of older homes within the area and you are surrounded by nature, parks, greenery, trails. It's absolutely incredible."
Burke Mountain
Our final stop takes us to the stunning community of Burke Mountain, which Lapp calls home. This master-planned development is one of the fastest growing neighbourhoods in Coquitlam, with easy access to outdoor activities in nearby Pinecone Burke Provincial Park and Minnekhada Regional Park.
"It offers so much," Lapp tells us. "There are incredible views, scenery, you have beautiful mountains and trails. Plus you have a cohesive neighbourhood. There's a huge vision for Burke Mountain."
That vision includes more infrastructure and housing, particularly in the upcoming Burke Mountain Village, a Whistler-inspired community of retail options, condos, townhomes and multi-family developments.
Our Guide
Krista Lapp
Keller Williams Elite Realty
Bio
Born in Vancouver and raised in the Tri-Cities, Lapp now calls Burke Mountain home. Before moving into the world of real estate seven years ago, she ran a successful web development/social media management company. That knowledge of the marketing world has given her a unique perspective when selling homes, and has propelled her to the top of her industry.
These days, Lapp's expert team includes her husband Josh, who she describes as responsible for "strategy, planning and thinking about how to create an amazing, elevated experience for clients".
More about Krista
Has a Pomeranian called Midge
Quote
" "
I had always had in my mind and on the radar that one day I will do real estate. An opportunity came up to work with a local realtor, Coquitlam-based, and I embraced it. And I never looked back.
Krista Lapp
Keller Williams Elite Realty
Living Here
Agent's Pick: Burke Mountain Family Home
Burke Mountain Listings
Lapp believes now is a great time to invest in Coquitlam, especially in a fast-growing neighbourhood like Burke Mountain.
We stop at a four-bedroom home to get a taste of what it's like to live in the area. With the nearby Burke Mountain Village under development, there will soon be a range of options for homeseekers, from condos to townhomes to detached houses.
Coquitlam Listings
Krista's current listings
Related neighbourhood listings
---
Behind the scenes with Stephen.
We originally planned to start today's tour with a climb up the Coquitlam Crunch. Luckily, I managed to convince the team that golfing was a smarter choice. More fool me to think I could have gotten a sneaky nine holes in under the guise of filming. Instead I found myself tearing chunks out of the bunker as the whole camera team gave me tips on hand placement and 'visualizations'.
Terrible golf form aside, the rest of my day in Coquitlam was definitely not a swing and a miss! I had always pictured Coquitlam as a place you go to when you're ready to get out of the city lifestyle and sacrifice 24 hour bakeries and late night bars, but boy oh boy was I wrong. Coquitlam has found a way to blend the outdoors with big city amenities, and our host Krista is its current reigning monarch. She even managed to sell a home during our day of filming.
Krista showed me that moving out of the city doesn't have to mean leaving behind your comforts. And with the addition of the newly-branded SOCO on the Skytrain route, downtown Vancouver is only a stone's throw away if you do ever find yourself missing the city life. At the end of the day, it seems like living in Coquitlam means you actually can have your cake and eat it too.
Never miss an episode.
Subscribe to our newsletter to get the latest on RealTours.