Neighbourhoods matter a lot. And not just for resale value, either. In their own way, they are alive. They live, breathe, grow and develop. And there's a sense of each of these places, something that's impossible to engineer; a certain feeling that comes from knowing the people in your community, and of feeling like you're a part of it.
If you've never had your butcher offer you a free bag of bones for your dog, or had your barista warmly welcome you by your first name, you're missing out on that neighbourhood that everyone should be searching for. We're here to help you find it.
Where the maple trees grow.
Maple Ridge is full of sights, but don't sleep on the sounds of the suburbs. The crack of a bat in the summertime at Albion Sports Complex, the gentle whisper of crickets in the fall. And, of course, the local kids yelling "Caaaaaaar" all throughout the year as they drag their hockey net across the street, reminding you that you're living in one of the most family-oriented communities in BC.
From north to south, east to west, it's that family-friendly vibe that bonds the communities of Maple Ridge. It's what drew us to the ridge in Season One of RealTours, where local real estate experts Chase Shymkiw and Jeremy McCarthy introduced us to Silver Valley, Albion, and everything else north of the Fraser River and south of Golden Ears Park, including a brief stop in Pitt Meadows' Osprey Village.
On the house.
Maple Ridge is growing, but in a different way from other communities in BC. This isn't the investor hotbed of the Lower Mainland or a place to expect to find 40-storey towers. Maple Ridge is a community mostly made up of detached homes, row homes and townhomes, where homebuyers typically live in their property.
It's the living where you own that makes this such a family-friendly place. The community of Silver Valley, where RealTours agent Chase Shymkiw resides, reminds you you're in a family-oriented community as soon as you roll in. This is a master-planned community with homes ranging between 20 years old to brand new, with new developments being added around the clock. You can expect to find properties from 2,800 to 4,000 square feet here, and at a significant price reduction (we're talking hundreds of thousands of dollars) compared to the suburbs that lay west of Maple Ridge. If you are thinking that being a touch closer to Vancouver might suit you better, Osprey Village in Pitt Meadows is a great balance, with as many townhomes on offer as detached homes, and that same family-friendly feel that's present in Maple Ridge.
In Albion, which sits in South Maple Ridge just north of the Fraser River, homes are typically a few years older. But they still consist of large homes on large lots, with proximity to some of the best sports fields and fairgrounds in the city. It's one of Maple Ridge's most sought-after communities.
Room for activities.
If you love the great outdoors, you're going to love Maple Ridge. The city is home to plenty of outdoor adventures and stunning landscapes, from the mountains to the river. We're talking about 69 parks, 47 playgrounds and six off-leash dog parks for your four-legged friend to enjoy.
Dominating the region's natural attractions is the majestic Golden Ears Provincial Park, where visitors are greeted with sprawling forests, pristine lakes, and trails that promise both a workout and tranquility at the same time. Equestrian enthusiasts will have plenty of time to horse around in Maple Ridge, with its numerous riding trails and dedicated equestrian centres. And from sturgeon to salmon, the serene waters of the Fraser River and surrounding lakes offer anglers a chance to indulge in some of the best fishing experiences in the province.
For those who find solace in hiking and biking, an extensive trail network winds through lush forests, offering both leisurely paths and adrenaline-pumping routes. The trail network encompasses over 100 kilometres of local trails, so you won't run out of options anytime soon. In Maple Ridge, every corner turned is an invitation to a new adventure. There's never a dull moment in this neck of the woods.
Down to business.
Maple Ridge isn't just building fantastic new neighbourhoods, the city's business community is also thriving. Here are some of the most popular local businesses in Maple Ridge, BC.
Humble Roots Cafe & Deli
Serving the freshest handcrafted, homegrown and seasonal fare, the residents of Silver Valley are quick to tell you how lucky they are to have Humble Roots nearby. Open from 9am to 3pm every day of the week, Humble Roots is well known in the community for its breakfast, sandwiches and fresh coffee. Their eggs benny uses local bacon and ham from Hopcott Farms, or the pierogi and egg combo is quite possibly the heartiest way to start your day. You won't leave hungry.
Kizzy's
While you're in the Silver Valley area, you might as well add an after-breakfast snack to your food log. Swing down to 128th Avenue and make a sweet stop at Kizzy's Macarons. Kizzy's isn't your typical pastry shop, they're doing all things macarons. Macaron towers, macaron cakes, and macaron classes are all available at the shop. They offer year-round as well as seasonal flavours, so stop by regularly to see what's cookin' - or bakin', rather.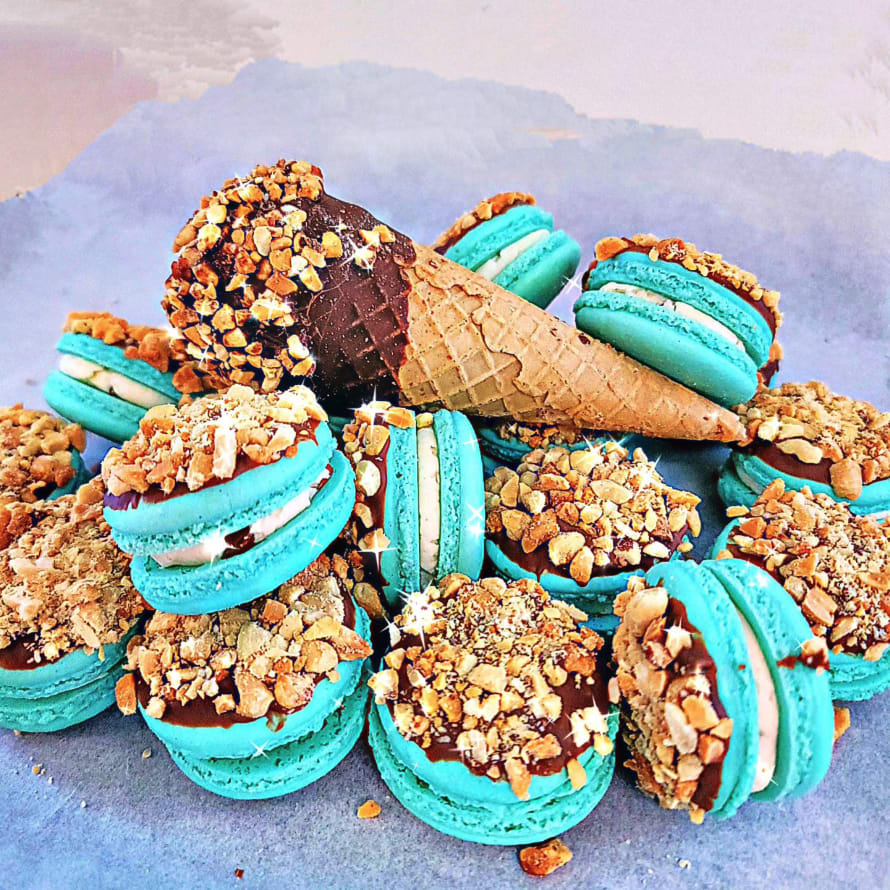 Kingfisher's Waterfront Bar & Grill
Located just south of the sports complex in Albion sits one of the best lunch spots in town, especially if you're after food with a view. Kingfisher's Waterfront Bar & Grill has arguably the top patio in Maple Ridge, with live music included. It was recently voted the best first date spot in Maple Ridge by the readers of the Maple Ridge Pitt Meadows News - not sure if that's due to the romantic views of the mighty Fraser River or the Guinness Draught on tap.
Golden Ears Cheesecrafters
We're going to try to make it through this write-up without any cheese puns, but no promises.
You can find some of the best cheese in the province right here in Maple Ridge. Golden Ears Cheesecrafters is run by two sisters who make award-winning artisan cheeses from grass-fed Jersey milk. Their maple havarti and smoked gouda are divine, but then again, we've yet to try anything from this local business that isn't knock-you-off-your-feet good. People travel from all over the Lower Mainland to get a taste of this cheese, and if you live in Maple Ridge, it's going to be a frequent stop.
There, we made it, zero puns. Easy brie-sy.
---
Top of the class.
Families from across the Lower Mainland are flocking to Maple Ridge, and the school district is growing quickly. School District Number 42 meets the learning needs of approximately 16,000 students of all ages in Maple Ridge and Pitt Meadows.
The district has developed numerous skilled trades training partnerships with colleges and universities and is committed to educational choice and an inclusive, local approach to special education.
View the 22 elementary schools and six secondary schools in district number 42, and for more information on rankings, visit the Fraser Institute's Report Cards on schools in Maple Ridge and Pitt Meadows.
Safe and sound.
With a plan to grow the downtown core of Maple Ridge in the works, including new restaurants, shopping and transit, and a small-town feel that truly builds a sense of community, Maple Ridge is becoming the best of both worlds. You're close enough to Vancouver, and you have Alouette Lake and Golden Ears Park right in your backyard.
This is a safe, quiet, and relatively affordable community compared to some of the closer-lying outskirts of Vancouver, with large lots and small-town vibes in abundance. For more trails, more potlucks, and more road hockey, Maple Ridge is the place to go.