New to Canada and new to mortgages? Let us help.
How to get a mortgage if you're a shiny, new Canadian resident
Pick which options below best apply to you and embark on your very own real estate adventure.
There are three primary categories that you may fall into. Take a gander below and see which table fits your current circumstances best - we'll direct your path to the right info from there.

No sugar coating.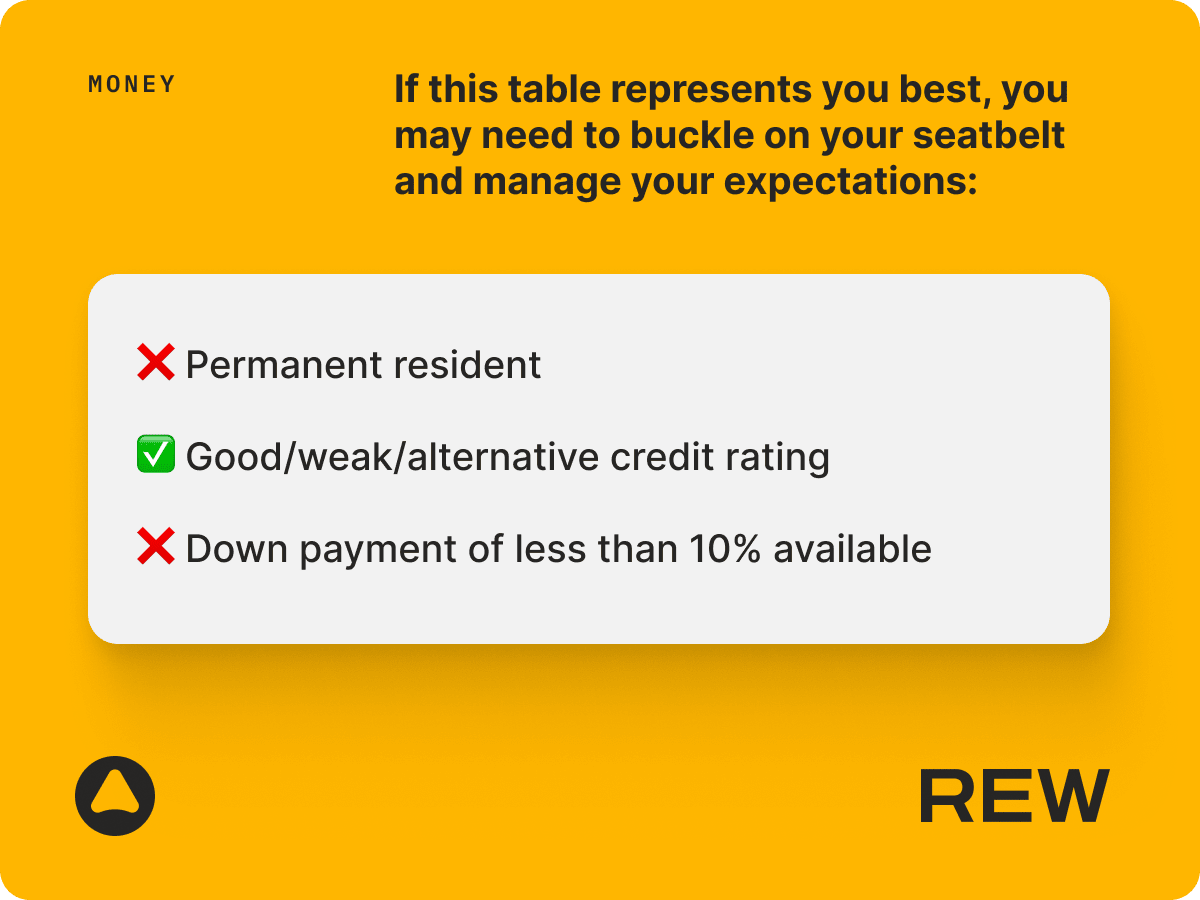 Keep saving, keep working on your credit rating and keep putting your ducks in a row for permanent residency. Remember, this doesn't mean that you'll never be able to get a mortgage in Canada, there's just a longer journey ahead.
There are some private mortgage companies that may take you on, but the interest rates they offer will be much higher to offset the risk they are taking.

Tick, tick, tick, boom - traditional mortgage application.
(If you're confused as to what the heck a credit rating is, we suggest you make a quick cuppa and read this.) We also heartily recommend that you head over to this article on all the documents you'll need to buy a home. Or you can start off down your home-buying rabbit hole by learning about mortgage pre-approval here.

New to Canada Program.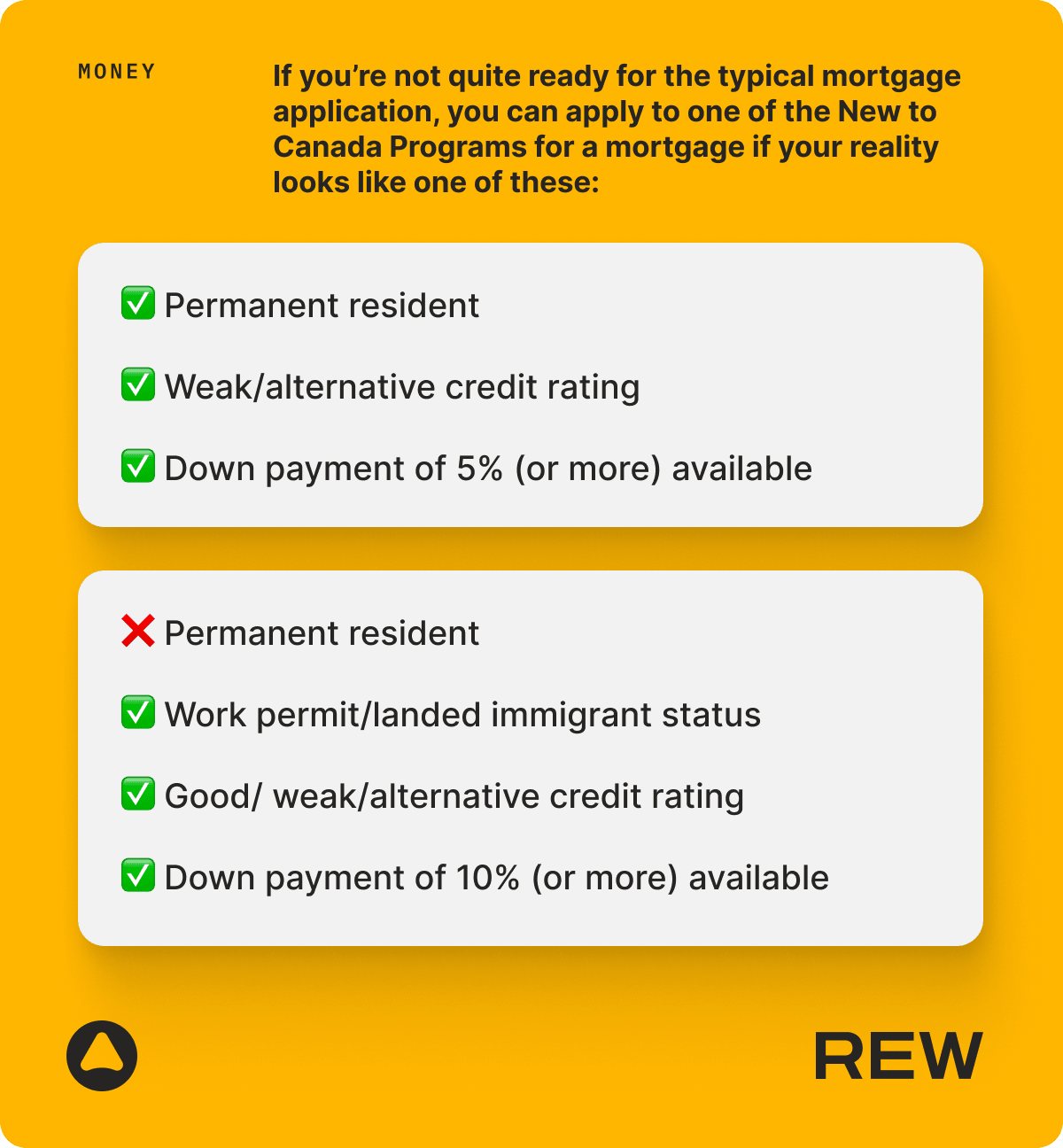 So what exactly is a New to Canada Program, we hear you ask? Excellent question, young Canadian padawan. Well, there are a bunch of mortgage lenders who work with specific types of ex-pats.
There are also a few others that work with specific types of ex-pats. These lenders are willing to take on newcomers to Canada and the risk that comes with your lack of Canadian credit history and long-term Canadian employment (in fact, some of them will only deal with you if you've been in the country less than five years).
In order to apply with any of these guys officially, you'll need to jump through a few hoops. Here they are for your edification and delight:

What the credit score?
You may want to check out our more extensive list on how to improve your credit rating here. For now, here's our REW Money summary:
Pay the bills on time. Every time.
Don't max out your credit cards. Aim to be under 70% of the limit of each one.
Don't cancel cards and sign up for new ones. Lenders want to see healthy use of credit over a long period.
Aim for credit diversity. Short, mid and long-term credit shows that you manage your money well.
Limit the credit inquiries by lenders. It seems suspicious if loads of lenders are checking your score in a short period of time
And, of course, a consistent source of income and a good debt-service ratio is key. You should be aiming for less than 39% of your total Canadian income going towards paying off your debt each year.
Too soon?
Haven't been eating poutine long enough to have built a decent Canadian credit score as yet? Here are some documents that will help solidify your new friendship with Scotiabank, CIBC Mortgages and RBC Mortgages:
Proof of monthly savings
International credit report. They will generally accept a good credit report from UK, US, Australia, or a Commonwealth country
Proof of income from pay stubs or an employment contract
Monthly bank statements
Reference letter from a Canadian financial institution
Proof of paying utilities, mobile phone or insurance (anything along those lines), or letters from providers confirming timely payments
Proof of timely payment on rentals, or letter from a landlord confirming this
It is a fair assumption to say you will need at least 12 months of each of these documents for them to be considered adequate.

The not-so-low-down on your down payment.
Once you've proved that you can handle your income and credit, you'll need to empty the vault of a substantial amount of cash for a down payment - as "low" as 5-10% of the cost of the home, and as high as 30-35% in some cases. Ouch.
The Other General Traditional Mortgage Stuff.
With the "new-Canadian" stuff out of the way, you can begin with the other, run-of-the-mill mortgage stuff, like getting mortgage insurance and choosing between a variable or fixed interest rate. After that, we suggest you collapse onto the couch with a tub of ice cream as you realise that adulting is hard.