Imminent homebuying intentions on the rise for Vancouver renters, but down for current homeowners
Imminent homebuying intentions on the rise for Vancouver renters, but down for current homeowners

Maybe it's to do with rocketing rental prices or lack of rental supply, but more and more Vancouver renters are planning on buying a home in the next year – despite entry-level home prices also soaring, according to real estate advisory firm Altus Group.
Altus' latest Vancouver Flash Report, released November 8, said that overall interest in homebuying in Vancouver "has not faded." More renters surveyed this year (17%) than a year ago (14%) saying they are planning on buying a home within the next 12 months, but fewer existing homeowners are planning an imminent move (14%) compared with last year's homeowner respondents (18%).
Overall, that balances out as 15% of all households surveyed in 2017 planning on buying a home in the next year, which is only slightly down from last year's 16%.
The group also found that, at 27%, relatively few homebuyers in Vancouver take out high-ratio mortgages (uninsured mortgages with more than 20% down payment). Since those mortgage applicants are the only group to be affected by federally regulated mortgage rule changes coming into force January 1, the report said, "Tighter lending criteria for insured mortgages plays a smaller role in Vancouver than many other parts of the country."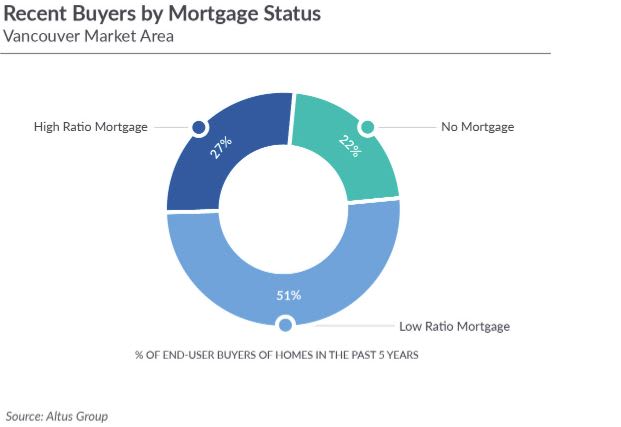 Altus also said that most households in Vancouver reported that they largely are not concerned with their level of household debt. When asked if they agree with the statement "I am concerned about my level of household debt," one in 10 respondents said they agreed completely, and even fewer – 8% – homeowners with mortgages agreed completely. That figure was only 5% for homeowners without mortgages.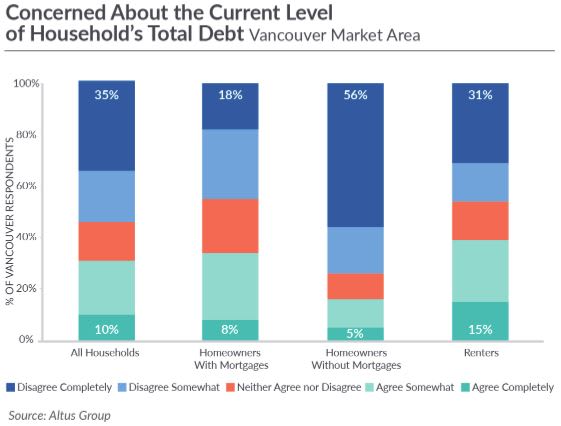 The report added, "Low interest rates are an important factor in managing household debt: more than three-quarters of Vancouver homeowners with mortgages currently have a mortgage rate of 3.5% or less, with the overall average rate at about 3.1%, according to Altus Group FIRM data."
Altus also reported, "Supplemental income appears to be helping some Vancouver households manage their debt – about 15% of homeowners with mortgages reported they had rented out space in their home on a short-term basis in the past year; another 11% were planning to do so in the future, according to the survey."
Like what you read? To get the latest real estate news as it happens, sign up for our newsletter in the footer below and follow us on Facebook and Twitter.