Customs House presents a collection of grand residences with unrivalled views of Victoria's inner harbour
Customs House presents a collection of grand residences with unrivalled views of Victoria's inner harbour
One of John Ly's clients has purchased several "trophy" homes in the past, but when the Vancouver businessman passed by Customs House, his interest was piqued.
"He called me because he was really taken by the unique architecture, the heritage factor, as well as its prime location," says Ly, principal John Ly Personal Real Estate Corporation. "Then, when he saw the 2,000+ square foot expansive residence, it felt like a house in the sky to him."
Ly's client was equally thrilled that he bought a stunning one-level home for just under $3 million.
"You don't typically see this size condo on one level in Vancouver, and if you do, it's much more than $3 million," explains Ly. "You can't duplicate this building; with its Victoria charm and contemporary high end European finishing throughout, Customs House is a very special project."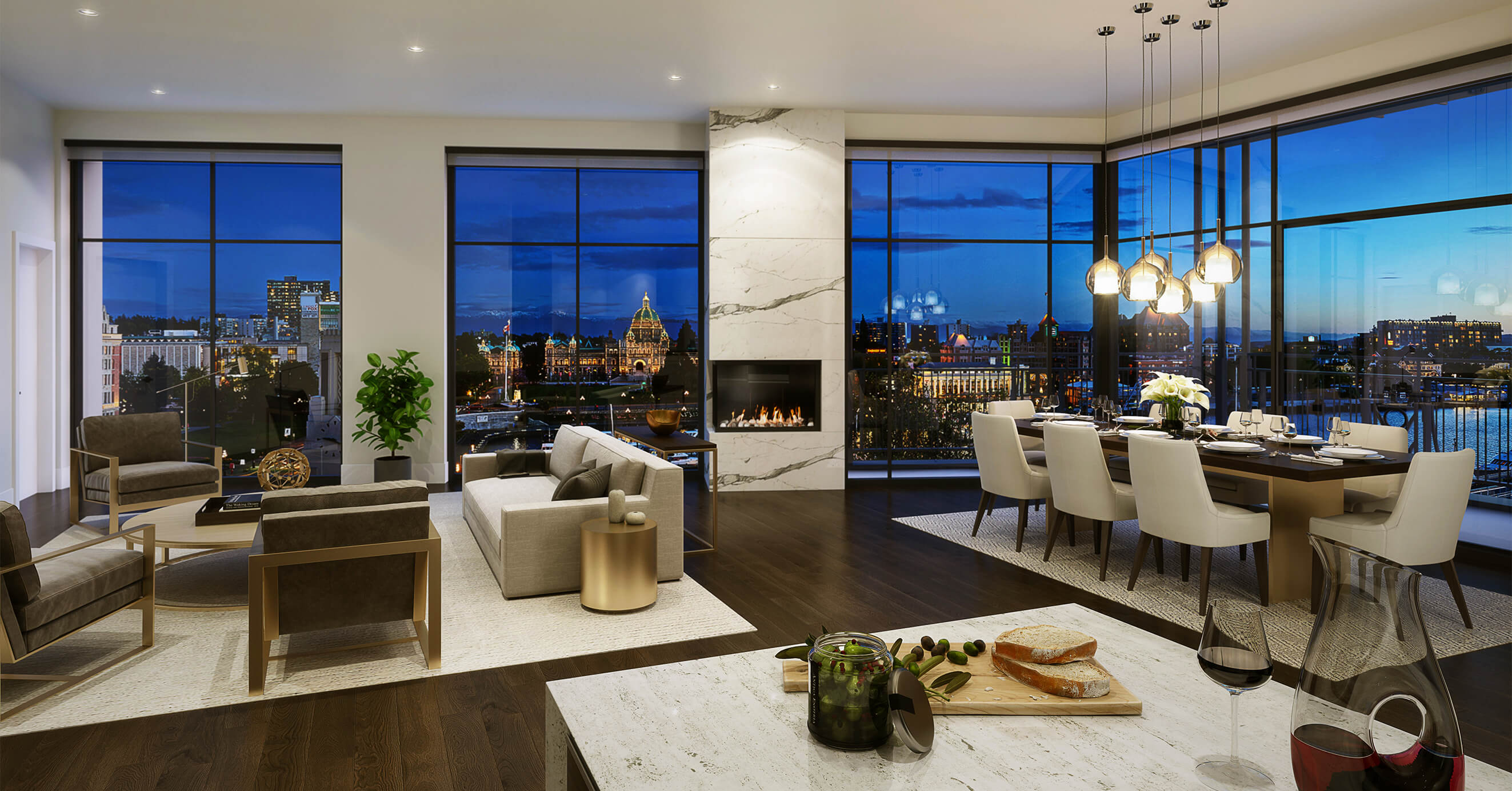 A symbol of Victoria's inner harbour rich past (circa 1898), Customs House is a collection of 51 luxury contemporary condos, ranging from 519 to 4,400 square feet, and features approximately 16,000 square feet of retail space at ground level, which will be home to high-end restaurants and boutique retail stores.
Ly's sentiments are echoed over and over again by the 57 home buyers, who can't say enough about how striking and elegant Customs House is – inside and out, says Craig Anderson, marketing and sales director, Magnum Projects.
"I call Customs House one of the three grand dames of Victoria's Inner Harbour, the other two being the Legislative Buildings and the Empress," adds Anderson. "We have seen a huge increase in interest as we are nearing completion set for late spring 2021."
It's no wonder. The way award-winning Insight Design Group balanced contemporary style with a period building has resulted in one of the most unique offerings of waterfront homes in the Inner Harbour.
The results are stunning. The original sandstone and brick exterior walls from 1914 were retained and a completely new building was constructed in behind – from parkade to penthouse.
The elaborate design of the exterior walls resulted in residences, lobbies and corridors that feel modern with a "nod" to period details, such as stone mosaics to create a classic, bold patterned floor for the lobbies.
There are so many standouts inside, it's hard to pinpoint just one. As kitchens are the heart of the home, a lot of thought went into creating elevated gourmet kitchens, boasting imported Italian cabinetry with simple yet elegant backsplash and flat panel doors free of hardware complimented by market leading Sub-Zero, and Wolf appliances.
However, the exposed brick walls and brick archways over the window openings, visible in the interior living spaces, provide the nod to the past.
A leader for transforming heritage buildings in Victoria, Cielo Properties is renowned for going the extra mile.
"The developer has flown in teams from across Canada who specialize in installing the new sandstone exterior panels, which were imported from Portugal," says Anderson.
Cielo Properties' commitment to excellence doesn't stop there. The Italian kitchens are being put together by a team of professional German installers.
"These guys are the only people with the skillset and craftsmanship to handle these kitchens … they are considered the "pinnacle" of kitchen installers," says Anderson. "Customs House residences epitomize luxury that has been unseen in Victoria as yet."
Discover for yourself why Customs House is such a unique offering in our capital.
Completion is set for late Spring 2021 and only nine harbour view residences remain, starting from $2.9 million. For more information, visit www.customshouse.ca, email [email protected], or call 250–590–9881. The Discovery Centre, located at 955 Wharf Street, is open by appointment only.