The momentous unveiling of RealTours, an REW Studio exclusive production.

May 4th marked a significant milestone for our team at REW. After weeks of planning, the air was filled with anticipation as we gathered to celebrate and introduce the evolution of the REW Studio, along with the unveiling of a highly-anticipated project that has been a year in the making. Together, we're about to embark on an extraordinary adventure to redefine the real estate industry.
A night to remember.

Picture this: you find yourself amidst the grandeur of the Vancouver International Film Centre, surrounded by 150 of Vancouver's most esteemed agents. With a drink in one hand and a delectable canapé in the other, you eagerly await the unveiling of REW's top-secret project. You step into the theater and see the REW logo casted brightly across the red curtain. You find your seat and Monika Rau, Director of Partnerships at REW, warmly welcomes you, signaling the start of an unforgettable night.
Introducing REW Studio.

When it comes to real estate content, Canadian homeseekers and agents alike have told us that they are drowning in a sea of sameness. But we believe that real estate should be one of life's great adventures - and that the greatest adventures deserve the greatest stories. And that's why our REW Studio creatives ingest far too much coffee each morning: to keep the same-same wallpaper inside the properties where it belongs, and produce original, compelling, painstakingly-crafted and truly human content and experiences that are impossible to forget.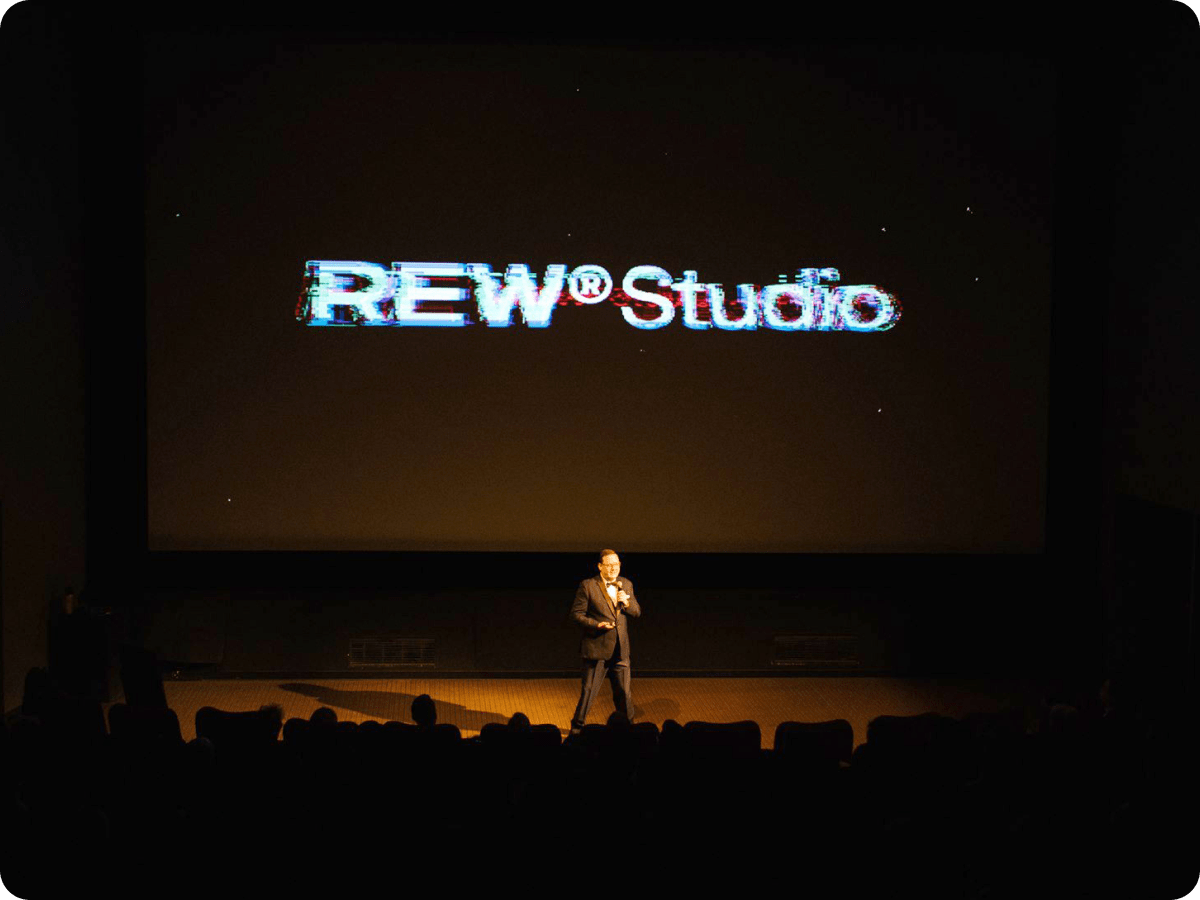 And if you would like a taste of what we've been slaving away at over the last 12 months, pretend that you too are in front of a gargantuan theatre screen surrounded by state-of-the-art surround sound, grab some popcorn and your beverage of choice, and hit the sideways triangle below to enjoy the show…
The moment you've all been waiting for.

Now, you may be wondering what this big screen event was all about. Today, we are thrilled to finally unveil a project that has consumed us for over a year. Through blood, sweat, and (only a few) tears, we proudly present the preview to the three pilot episodes of our original content series, RealTours — a show dedicated to authentically showcasing Vancouver's top real estate agents and hottest markets.
This premiere served as an exclusive preview screening of the pilot episodes before their official launch this summer (stay tuned for more on that), and to signal the start of many exciting partnerships with some of Vancouver's finest.
An ode to our Partners – past, present, and future.

This experience allowed us to express our deep appreciation in person for all our partners, both past and present. We extend a special thank you to the trailblazing realtors, Chantal Vignola, Adina Dragasanu, and Casey Reynolds, who played a pivotal role in bringing Real Tours to life. We are immensely grateful for their partnership and willingness to take a leap of faith to create something amazing that ultimately led us to where we are today – planning the official RealTours Season 1.
As we continue to push the limits of what's possible in real estate, we invite you to join us on this exciting adventure. If you would like the opportunity to star in Real Tours Season 1, you can find out more here.
You can view more photos from the event in the full gallery.