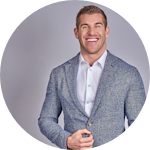 Shawn Brown*
*Personal Real Estate Corporation | Framework Marketing Inc.
About Shawn
Shawn is a high-producing real estate agent, in the top 1% for sales volume within the Real Estate Board of Greater Vancouver. He brings with him an advertising and marketing agency background that he has leveraged to become one of the most effective listing marketers in the region. Shawn also has a proven track record in working with investors in sourcing the savviest real estate investments that Metro Vancouver has to offer and invests significant time creating strategic alliances with key peo...
Shawn is a high-producing real estate agent, in the top 1% for sales volume within the Real Estate Board of Greater Vancouver. He brings with him an advertising and marketing agency background that he has leveraged to become one of the most effective listing marketers in the region. Shawn also has a proven track record in working with investors in sourcing the savviest real estate investments that Metro Vancouver has to offer and invests significant time creating strategic alliances with key people, which consistently proves to benefit his clients--being just one of the many reasons he has such an excellent client services track record.
1) CLIENT TESTIMONIAL VIDEOS
https://www.youtube.com/playlist?list=PLURPGIDpMr63ulPFPa2S9sv52u3_UbLRK
2) CLIENT REVIEWS
We recently used Shawn for our third real estate transaction. We have thus far bought, sold, and bought again using Shawn. We love working with Shawn. On the listing side, he knows exactly what needs to be done to accomplish an excellent result. We were very pleased with him when we sold. Each time we bought, we found Shawn to be a good listener and to have a good grasp on what we were looking for. With the second place we bought, we were not the only people offering on the property. Shawn proved to be very skillful when it came to negotiating and we managed to 'win' the bidding war without having to pay the highest price. Shawn is an expert in his field and we plan to continue our relationship with him for years and years to come.
— Amanda Virgin
I had been trying to sell my condo for months with no success. I was referred to Shawn and quickly things changed. He refreshed my home with skill, his marketing was fantastic and high-end, and he was communicative and kept me abreast about what was going on with my listing. After just two weeks he had it sold - and for a good price!
— Trevor Stefani
We had been struggling to sell our home for three months, and we were getting virtually no showings at all. Our close friends recommended we try Shawn. He had a detailed plan and enthusiasm that we hadn't seen before. He re-marketed the listing completely and instantly we started getting way more traffic than we had before. Within 3 weeks Shawn had successfully sold our home.
— Gina Vancek
I've used Shawn to sell two very different properties, as well as to buy two properties. On the listing side, Shawn proved to be uniquely skilled and willing to work hard. In both cases, he invested substantial time and resources into preparing my homes to show beautifully. He transferred both of them into show-home quality listings. This included coordinating various changes and updates and consulting with trades people and stagers. His marketing team did a fantastic job of showing off the properties and each sold very successfully for prices that exceeded my expectations. On the buy side, Shawn helped us to get a special property in Kits that turned into a bidding war. Shawn worked very hard to persuade the seller to accept our offer based on things that were outside of the offer price. I have have had great experiences with Shawn and feel good recommending him to any of my friends.
— Alex Conconi
What can I really say about Shawn Brown. My sister referred me. Shawn had sold her East Van house in 2016 for a record-breaking number in the neighbourhood. He is personable, professional, extremely hard working and actually just wonderful. We interviewed a number of realtors, and their cut is all the same. Shawn goes way beyond. The videos he created, the 3D floorplan, the immaculate photos, were all far above anything I had seen. Our apartment was sold only days after he started showing it and before he even hosted an open house. He negotiated a 1-week closing so that we could purchase another property without any bridge financing. And besides all of that, he is a lovely person. I can't say enough good things. I don't know why anyone would go with anybody else.
— Mira Hunter
Shawn helped us in our search for our ideal condo, paying attention to our specific needs and preferences. When we found the right place, he was excellent in securing our offer and getting things settled in this hot Vancouver market. He then sold our current place within 5 days for above asking price! He did more than what was expected to make sure we get the best deal. Shawn is very efficient, professional and extremely knowledgeable of the Vancouver property market. He is our realtor for life!
— Adriaan Nel
I engaged Shawn Brown to list and sell my downtown penthouse loft as well as to facilitate my purchase of a West End condo. Shawn went above and beyond to get my loft ready for listing by helping to stage it for showings; his efforts made a big difference in how the space photographed and showed, especially through his cutting-edge marketing strategy. He worked day and night arranging showings and following up with realtors to get their feedback. In the end, his hard work paid off – he negotiated a great selling price. Shawn used his negotiating skills again for me in the purchase of a West End condo. I got the condo I wanted for the price I wanted to pay. I have no hesitation in recommending Shawn to anyone who is looking to buy or sell a property because he delivers excellent results.
— Quinn Newcomb
Working with Shawn is working with a friend. He doesn't pressure you into anything you're not comfortable with, listens to you, coaches you and gives you the guidance and advice that you need to make a wise and informed decision regarding your home. Shawn worked tirelessly, using different ways of marketing my home in a weak market – he never stopped trying. He believed more than I did that my home would sell, and ended up being right. I would recommend Shawn to anyone who is looking to list or buy, as he will go above and beyond the expectations of an agent. He's more than just a Realtor – he's a friend to all of his clients.
— Tyson Kidd
I used Shawn to sell my condo in Chinatown. He did such a great job preparing the listing for sale: he carried out partial staging, re-arranged things, and what he did made the place look awesome! His marketing materials were very professional. He managed to put two buyers against each other and using that negotiating power broke a sales record in the building at the time. I was so pleased with the outcome and appreciate his diligence and how detail-oriented he was. I would absolutely recommend or refer Shawn whenever possible!
— Marcus Goodwin
Our family had used Shawn to purchase a house and again to purchase a condo, so when it came time to sell the condo, we used Shawn again. Shawn did a fantastic job of preparing the condo. He instructed my daughter, who lived in the condo, exactly what to do to prepare. He also recommended minor upgrades including a change of paint colour and he provided us with the colour to use. His recommendations worked very well: the space felt larger and brighter and newer. I was a little nervous about the staging at first, but Shawn reassured us. His marketing package was top notch - the place showed beautifully. It had that 'perfect' look that buyers love! Once the listing went active, it immediately received two offers and was sold instantly. I would recommend Shawn to anyone who is looking for an excellent buying or listing agent in the Vancouver area.
— Grandpa Bill
My husband and I were referred to Shawn by good friends of ours. We were looking to buy a larger townhouse in Queensborough and also had to sell the one we owned in the same area in order to buy. The tricky part was that the townhouse we wanted was sought after at the time, yet we had to sell in order to buy. Shawn managed to firstly get us the townhouse we wanted despite the competition. He carried out several strategies to make this happen. Once this step was accomplished, he skillfully assisted us in preparing our existing property, and then he marketed it well and got it sold quickly, with the closing dates we needed. In the end, it all went smoothly. We are now working with Shawn again on our next real estate plan - Shawn is our 'forever' real estate agent!
— Maureen and John Hartfiel
Shawn assisted us in purchasing a couple of investment properties downtown Vancouver. We found him to be knowledgable and to have a good grasp on the different buildings and the different neighbourhoods within each area. These properties were subsequently renovated and Shawn stepped in on many occasions to consult on the projects to watch out for our best interests. We found Shawn to be skillful and caring in his approach to property searching and property evaluating. I would recommend Shawn to anyone looking to buy an investment property. He has plenty of experience doing this and value to finding these opportunities.
— Hamed Mansouri
I found Shawn through calling on one of his listings. Right off the bat, Shawn listened to what my needs and wants were. He asked a lot of questions and he sounded like a nice person during that initial phone meeting. He then set up a property tour for us for when we visited from the Island. Shawn presented us with good options and he was also clearly honest in his opinions of each property after we left the viewing. I appreciated his honesty and could tell that he really cared about making us happy and that we get the absolute best possible value with our purchase. In the end, we bought a beautiful corner suite with fantastic views in a newer building in the Brentwood area. We are pleased with the choice we made. We would recommend Shawn to anyone we know needing help with their real estate goals.
— Clark Van Oyen
We have worked with Shawn twice, first on the buying end and recently on the selling end. In both instances, he navigated the entire real estate process with confidence, competence and a level head. The comfort this provided us cannot be overstated. From initial consultation through final sale, Shawn was prepared, organized, proactive, knowledgeable and professional. He seamlessly coordinated the work of cleaning crew, handyman, photographer and videographer over a two day period, and their work resulted in a beautiful marketing package that likely played no small role in the sale of our condo (48 hours, multiple offers, 14% above list price). We genuinely felt that Shawn was profoundly devoted to us as his clients. He always answered his phone, which when coupled with excellent communication skills, kept us informed of the ins and outs of the selling process and where we were within it at any given time. We will definitely work with Shawn again. In fact, I wish he was also a lawyer, accountant, financial planner and GP.
— Matthew Regan
Shawn worked as our Buyer's Agent for the purchase of our Yaletown townhouse. Because the market at the time was so hot, it was very difficult for buyers to secure a good listing. Shawn deftly navigated the multiple offer process with an intelligent strategy that involved more than simply advising us to throw more money at the sellers. As a result of Shawn's expertise, he secured that townhouse for us and we are very happy with that purchase. Shawn is fun to work with, aggressive, and very knowledgeable. Once he gets the bit between his teeth he is truly 100% dedicated to your deal. I would recommend him to anyone.
— Taylor Little
Shawn helped us both sell our condo and buy a new one. He really goes above and beyond what most realtors do. Shawn helped us with suggestions of what to do before listing and helped us to stage. He also cared about finding us a property that actually met what we wanted, and then helped us get it in a very quick seller's market. I would easily recommend him to anyone looking for a realtor.
— Kyra Berg
Shawn was incredible to work with - I highly recommend him to anyone looking to buy or sell. I was a first-time home buyer and had been looking for about seven months and had been unsuccessful in an offer going through. After working with Shawn for less than a month I bought an amazing one bedroom apartment for UNDER asking price. He is so knowledgeable about the Vancouver real estate market and one of the hardest working people I've ever met. I look forward to working with him again in the future.
— Tess Messmer
I had worked with Shawn on the purchase of my East Vancouver condo several years ago. When it came time to sell, I wanted to work with Shawn again because the first experience was a positive one. He did an awesome job of pricing it and marketing it to maximize traffic. His pricing and negotiating strategy also worked perfectly - we broke a record in the building and I was really happy with what he sold it for and what I made on this investment with Shawn. I would recommend Shawn both for buyers and sellers based on my experiences. He knows what he's doing and what he's talking about.
— Trevor Stefani
Shawn goes above and beyond. He initially helped me find and buy an amazing condo that I lived in for almost 4 years now, and I wouldn't have asked for anyone else to help me with selling it. From personally helping me move my boxes to helping me choose paint colours and make important staging decisions, Shawn was very helpful, knowledgeable and efficient. Shawn really put my needs, concerns and wants first. Once on the market, we had an offer within hours! It was a very painless experience, and I highly recommend Shawn to any potential buyers or sellers.
— Lauren Abbott
I've had the opportunity to work with Shawn on a number of occasions. From firsthand experience, I found Shawn to be very professional, diligent, and courteous. Shawn brings a long-term perspective to the transactions he is involved with and strives to bring value to his clients during each step of the process. I appreciate that Shawn does not just try to "get the sale", but works with clients to ensure they are making the correct long term financial decision. Shawn understands the real estate market and is prepared to guide his clients every step of the way!
— Jamieson Virgin
After a divorce forced to sell both my properties for financial and emotional reasons, Shawn not only went above and beyond selling them both (one at above-asking price) he also provided a kind heart and shoulder to lean on during the whole process. I like to think that Shawn Brown not only helped me find my new residence, but he also had the foresight and understanding to help me reach a place of happiness. Shawn Brown brokered a deal on a new start and new beginning for me, for that reason Shawn Brown will always be my realtor. I recommend him without hesitation to friends and family. I appreciated his weekly updates on my property, my building and the local market. I truly feel he presented me with well-researched information to help me make informed decisions.
— Dave M.
My home search in Vancouver started out slow. I was working with an agent before Shawn and saw close to 50 properties, but none of them were making me happy. Ready to give up, I was referred to Shawn and almost immediately he showed me two properties that I loved. I put offers on both and ended up getting the better of the two. I am very happy with what Shawn found for me and plan to keep in for years to come. I would recommend Shawn to anyone wanting a Realtor who knows what they are talking about. He listens well and really goes the extra mile to understand your wants and needs before setting out on a property search.
— Brock Penners
Shawn assisted me in purchasing a new build in Chinatown earlier this year. Shawn impressed me with his knowledge of the Vancouver real estate market and his in-depth understanding of pricing and property value. Shawn is completely dedicated to both his work and his clients. I could not be any happier with his service and I would definitely recommend him to anyone looking to buy or sell a property.
— Tanner Johnston
Shawn is an exceptional realtor. He is educated in market trends & negotiations. He truly understands how to dig to the root of what is needed by his clients and make it a reality. He is active in his process. And...of all of the realtors I've had the pleasure of meeting, I would say Shawn is of the most honest, trustworthy, and reliable.
— Jonathan Mattice
We worked with Steven Forlin for our move from Langley this summer. He was professional, always on time or early and did an amazing job preparing our listing within 48 hours of my request to put it on the market. We sold in less than 3 weeks in August! Steven made sure our move out clean was taken care of and he was there as we filled our moving truck too. I would definitely recommend working with Steven.
— Julie Boyer
3) VLOG EPISODE 1: ABOUT SHAWN
https://youtu.be/3eCC_7YZrKk
4) VIDEO UPDATES
https://www.thewesthavengroup.com/updates
Framework Marketing Inc.
13 Years Experience
Fluent In English