MLS Listings

The newest listings as soon as they come to market. Find, follow, and tour homes you love with an expert agent.

View MLS Listings
New Homes

New developments and pre-construction homes offer flexibility and financial benefits to purchasers. See whats being built.

View New Homes
Rentals

We've got rental listings by property managers and landlords across Canada. Find a short or long term rental here.

View Rentals
Real Estate Agents

We've made it simple to find the best and most recommended agents. Get paired with a market expert.

View Agents
Explore Real Estate in

Vancouver

Vancouver
Surrey
Richmond
Burnaby
Calgary
Edmonton
Toronto
Hamilton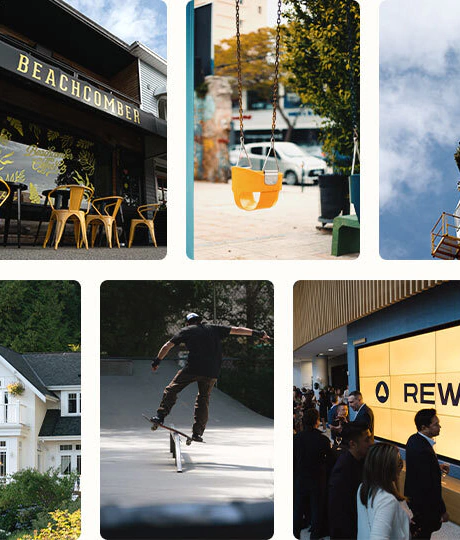 The Guide
Your real estate adventure is about so much more than listings. The Guide has everything you need to find your way home.
Explore The Guide
Experiences as real as your own.
We were all homeseekers once. The Guide is packed with information, advice, experience, insight and true tales of all things Canadian real estate.
Genuine insights from those who know.
The Guide taps into the greatest minds and the most powerful experiences of Canadian real estate to make your homeseeking adventure the best one possible.
The best agents guiding you through the best neighbourhoods.
Connect with the best agents in Canada as they guide you through the neighbourhoods they love.
Newton
Karan Kundhal
Join us as we uncover the community spirit of Newton, Surrey.
Find the best agents in

Vancouver

Vancouver
Surrey
Richmond
Burnaby
Calgary
Edmonton
Toronto
Hamilton
Latest agent news
The Agent Tales: #3 Russell Dela Cruz
The truth is that real estate isn't about property. It's about people. Normal human beings who have braved the sometimes wonderful, ofttimes treacherous waters of this great, real estate adventure. Here are some of their stories.
Read more
Get the guide in your inbox.
REW is always here as a guide to offer you insight, no matter where you're at on your journey. Whether you're purchasing a resale or pre-sale property, refinancing, selling or renting, we're here to help guide you through the process.
Explore Canadian real estate with ease
REW offers the best real estate search experience for individuals and families looking for new properties in Canada. We're a leading real estate platform with access to MLS® listings across Canada's thriving housing market. Whether you're searching for an apartment to rent or a house for sale, you'll find countless options to choose from.
Canada offers numerous advantages for experienced and first-time homebuyers, with a strong and stable economy, a diverse population, and a high quality of life. From bustling urban centers to charming rural towns, there's something for everyone in the Canadian housing market.
REW's MLS® property search makes it easy to narrow down your options based on location, price, and other important factors and if you prefer a more visual way to browse listings you can also try our MLS® map search. With our user-friendly platform, you can easily find pre construction homes for sale, apartments and condo buildings you might be interested in, and other properties that meet your specific criteria, including vacant land in a great neighbourhood, or even investment properties such as duplexes and larger multi-family homes.
REW also has a robust list of apartment to rent across Canada to assist you with your search and if you want to know your budget for a home, we have access to hundreds of lenders and can connect you with one of our qualified house for sale to secure a great rate.
REW has everything you need to get you started on your real estate adventure! Take advantage of the opportunity to find your ideal home in the vibrant and dynamic world of Canadian real estate.