We're seeing extraordinary times in the mortgage industry – so what does that mean to the consumer who is just looking for a good mortgage deal?
You'd have to have lived in a cave these past few months not to know we are going through extraordinary times in the mortgage market. First the Bank of Canada flummoxes everybody by lowering the overnight rate in January instead of raising it, as was predicted. Next the Big Banks react to the cuts and then a full-scale rate war breaks out among mortgage lenders vying for consumer attention. It's enough to make your head spin.
So what does that all mean to the ordinary consumer who is just looking for a good mortgage deal? Don't worry. What it means is that now is the best possible time to get yourself a fantastic mortgage. Here are the three reasons why it all happened and why it's all good news for you.
Reason #1: Prime Lending Rates Cut
On January 21, 2015, the Bank of Canada made a decision to reduce the overnight lending rate by 0.25 per cent, from 1 per cent to 0.75 per cent. With rates at historic lows, even the most seasoned economists were taken aback, as all the predictions had been looking in the other direction. But the central bank made a determined decision to stimulate small business growth, improve consumer spending power and stimulate the economy by cutting rates instead.
Canada's Big Banks – RBC, BMO, TD, CIBC, Scotiabank – responded quickly by cutting prime lending rates by 0.15 per cent to 2.85 per cent.
Reason #2: Mortgage Rates Follow Suit
The cut in prime lending rates immediately lowered variable-rate mortgages, as the fluctuation of this rate is directly related to the overnight lending rate. Banks usually add 2 per cent to this rate, which is offered to their best clients for unsecured lines of credit.
Mortgage broker Atrina Kouroshnia explains, "With the lower prime rate in place, the overall variable rate became lower for consumers. For instance if the home owners' mortgage rate was prime -0.6, it went from 2.4 per cent to 2.25 per cent and essentially reduced the cost of borrowing."
Alisa Aragon, a mortgage broker for Dominion Lending Centres, agrees. "When it comes to secure loans like mortgages, usually lenders offer them at prime or prime rate less a discount. Currently you can find [variable rate] offers from lenders at prime rate (2.85 per cent) to prime -0.7 per cent (2.15 per cent)."
But the ever-popular fixed-rate mortgage depends on the bond market, not the Bank of Canada's overnight rate. However, yields on bonds have been falling too. Just in December, the five-year bond yield was sitting at 1.34 per cent and it has since declined to 0.86 per cent. This means fixed-rate mortgage rates have been sliding in tandem with their variable-rate counterparts.
Aragon says, "Recently the bond market has been lower allowing lenders to temporarily reduce their fixed rates. Usually lenders have limited-time promotions for quick closing of mortgages between 30 to 45 days from the date of the mortgage approval. Currently you can find some lenders offering fixed rates at 2.59 per cent for five years. However, these offers are not for every borrower as they come with restrictions and conditions and have to meet lenders' strict criteria."
Reason #3: Competitive Market among Lenders
In turn, this has created a highly competitive mortgage market, with lenders vying increasingly fiercely to give their consumers lowest rates. This means that home buyers (and mortgage renewers) currently have access to historic low mortgage rates. Figures such as 2.69 per cent for a five-year fixed rate, unheard of even six months ago, are today's new normal.
Kouroshnia says, "In a competitive mortgage market, once the rates start to drop, the majority of other lenders find it crucial to follow. With spring being a hot market for real estate, rates play a major role in both qualifying and purchasing power."
For you as a homebuyer, this lowering of rates has one of two knock-on effects. It either lowers the payments on the home you are buying (or already live in), giving you more free cash each month to enjoy or, better still, invest. Or it gives you the chance to purchase that property you could not previously have afforded.
However, care must be taken when exercising the latter option, says Dan Whalley, Vice-President Personal Banking at Prospera Credit Union.
"Purchasing a home is an exciting and often overwhelming experience for many people. It is likely one of the largest investments most will make in a lifetime," says Whalley. "Lower-than-usual mortgage rates create a more accessible market for home buyers. However, it's important you identify the right mortgage for your personal situation and are confident that you could maintain your mortgage commitments should rates rise in the future."
Just because mortgages are cheap today doesn't mean that many don't offer great features such as cashback, ability to overpay, low penalties and so on. For example, Prospera's MyStyle mortgage is offering a 2.64 per cent five-year fixed rate, up to a 30-year amortization, along with its package of Prospera Perks. These include up to $1,000 to cover your mortgage transfer or new mortgage costs, automatic qualification for a $5,000 line of credit, waived chequing fees for the life of your mortgage and a 10 per cent annual prepayment allowance. Not bad for the credit union's lowest-ever rate.
It seems now is definitely the best time to get a great deal on a mortgage, so get out of that cave and start house hunting!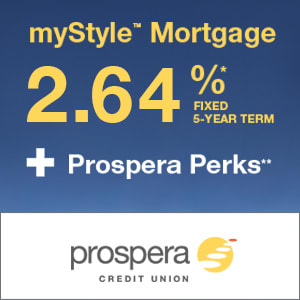 More Than Just a Great Rate
At Prospera Credit Union, we make a meaningful difference in the financial well-being of our members. Our members benefit from professional and personalized service through 16 branches that extend operations from Vancouver to the Okanagan.
For a limited time we are offering the myStyle Mortgage at 2.64%* on a five-year fixed term plus extra Prospera Perks**. To hold this rate, visit prospera.ca.
* See details at prospera.ca ** See details at prospera.ca