Vancity report examines median home prices vs incomes across Lower Mainland and Vancouver Island
Vancity report examines median home prices vs incomes across Lower Mainland and Vancouver Island
If you're looking to buy a home on a budget in the Lower Mainland area, chances are you're scratching your head about where to look for an affordable purchase. "Go live in Langley" seems to be the default suggestion – but what are the other options?
Vancity has published a new report that examines the median home prices in neighbourhoods across Metro Vancouver and Vancouver Island, and compares them against the median household income for that area (currently $79,495 in Metro Vancouver).
The credit union used this to create a gross debt service (GDS) ratio, which is the monthly mortgage payment on that home (assuming a 20% down payment, 25-year amortization, at posted interest rates – currently 4.64%) as a percentage of median monthly income. A mortgage payment is considered "affordable" when it is 32% of monthly income or lower.
Vancity found that, in terms of all home types combined, Langley City was indeed the most affordable, followed by Sooke and Victoria. West Vancouver, Lions Bay and North Vancouver were the least affordable.
When broken down by property type, detached homes unsurprisingly offered the least affordability, with only Sooke detached houses defined as affordable on the median local income, and the nine other most affordable regions for detached houses all coming in above 32% GDS.
However, the region's 10 most affordable areas for both townhomes and condos were all within easy reach of those on a median income – see charts below.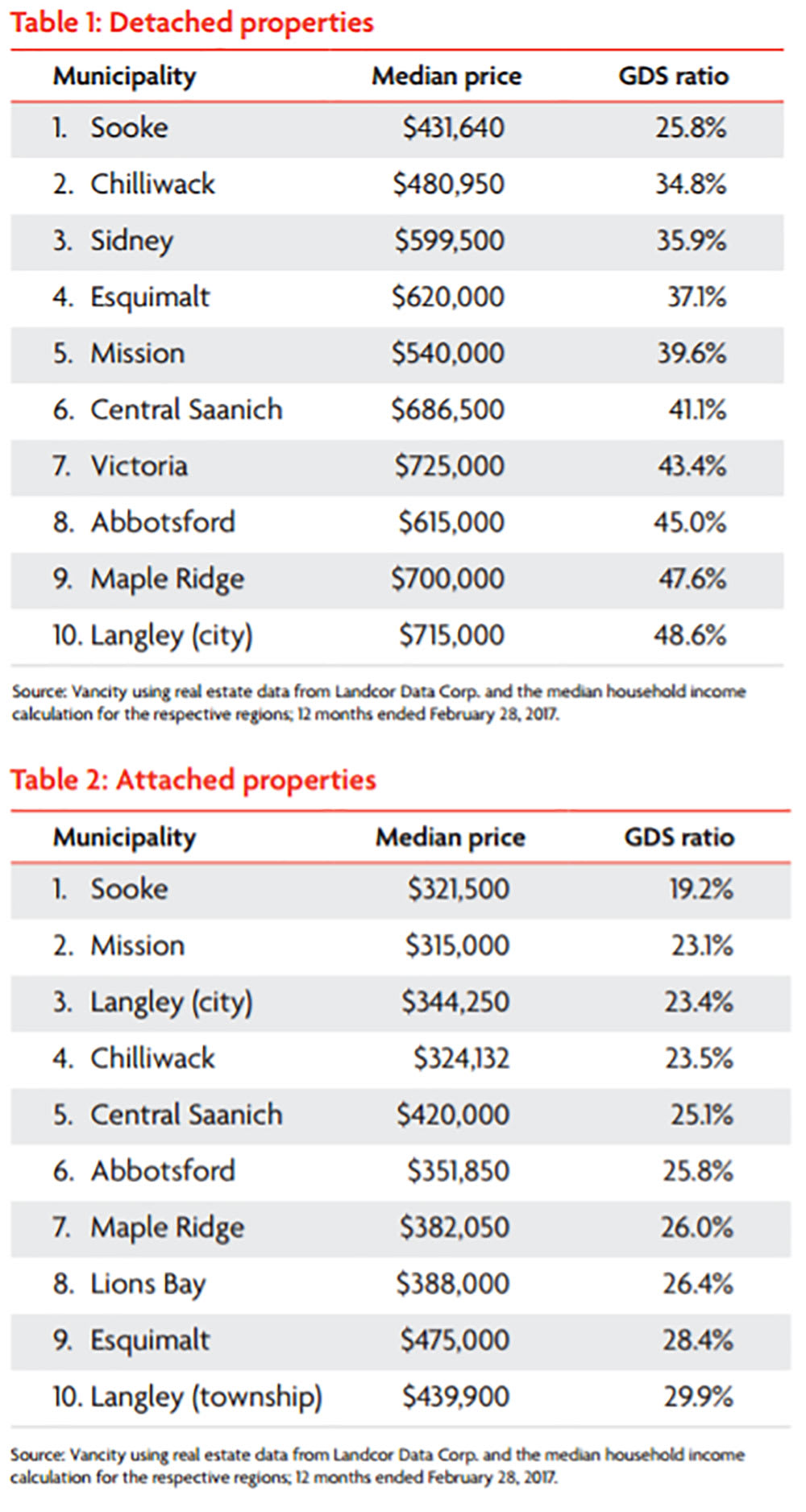 Vancity's report may also somewhat underestimate affordability, as it makes no allowance for the purchasing power of repeat buyers who have built up equity in previous homes. The GDS calculations assume that even those who are buying multimillion-dollar houses are putting down only 20%, rather than trading homes at the high end of the market, which is more often the case.
The report also assumes that all mortgages are paid back at the Bank of Canada posted interest rate, currently 4.64%, rather than the discounted rate consumers typically pay, which is currently well under 3%.
To read the Vancity report, with more local market breakdowns, click here.