Your guide to the pre-sale universe.
Your guide to the pre-sale universe.
We've all played with LEGOs before. Kids and adults alike love them, just as they equally fear stepping on them. And sure, making your own creation is a good time, but if you're going to build anything worth showing off, you're going to need to follow the instructions. Otherwise you're going to end up with a Millennium Falcon without hyperdrive, and that's not going to get Chewie and Han out of any sticky situations.
Just like you shouldn't start your LEGO masterpiece without instructions, don't start your real-life pre-build journey without instructions, either. This is your five-part instruction manual for the pre-sale universe. No matter where you are in your pre-build adventure, this guide will tell you where the next block goes. Let's build.
Instruction Manual: Table of Contents
What follows is a detailed look at the pre-sale journey and what you can expect and prepare for in each step of the process.

1: Understand.
Becoming an expert.
Pre-sale markets
Important decisions are hard by design, and often a little scary. They'll drive you crazy if you let them. The antidote is simple: information. Making an informed decision is critical, so step one of buying a pre-sale home is understanding what the process looks like. What to know before you make a purchase, the significance of transit nodes, and the expansion of public transit as part of Transport 2050. City initiatives near the development you're looking at such as infrastructure improvements or growth strategies reflected in the Vancouver Plan, pros and cons of the structural materials the developer has chosen potentially affecting budgets and environmental impact. It's all important information to understand.


Take the time to educate yourself on the development stages of projects that are listed on the pre-sale market. For example, once the developer acquires land, it submits applications to the local municipality where you can investigate when the developer applied for development and building permits, and when the project received final approval for construction (which can sometimes take years). Prior to construction completion, cities conduct several reviews such as building code inspections and occupancy permit compliance checks to ensure the building is safe to occupy and meets bylaw requirements. All of these factors will help to keep you informed to make the best decision for your pre-sale purchase.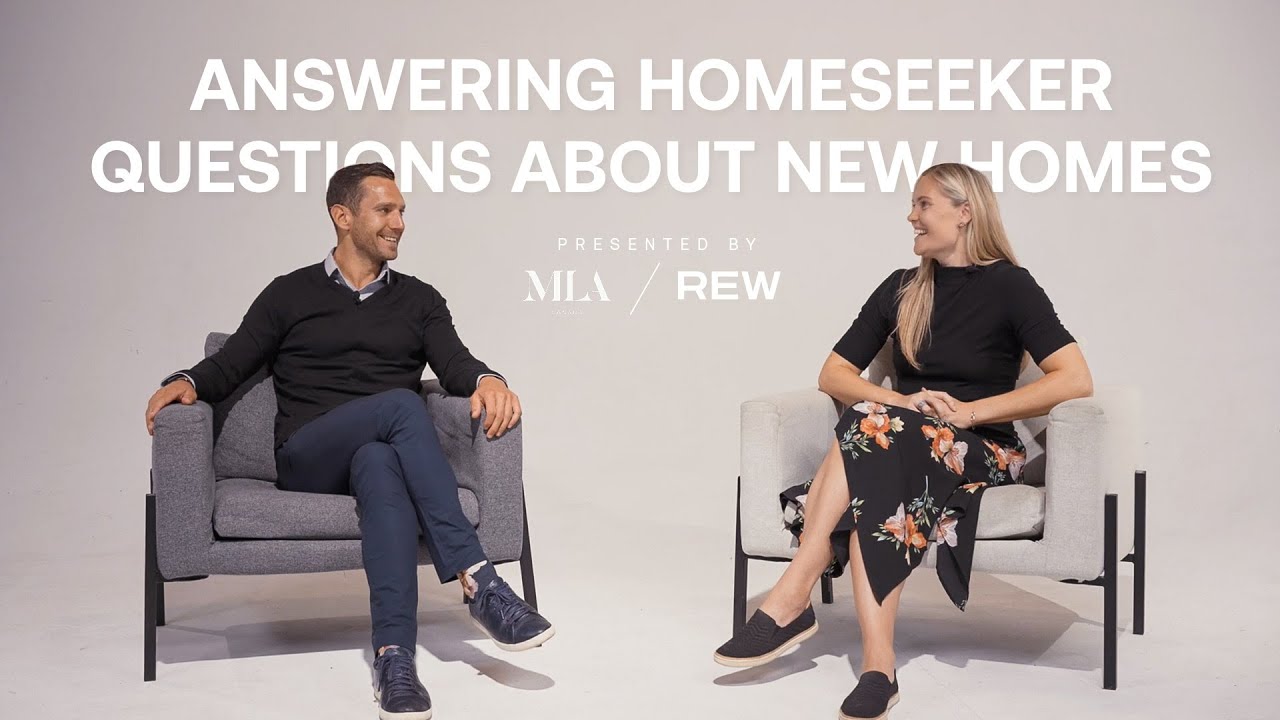 Pre-sale advantages
In addition to understanding the market, availability, and building attributes, it also helps to get acquainted with the advantages a pre-sale provides. You can pay your deposit in installments, time your move-in date, and enjoy all the benefits that come with moving into a home that's never been lived in before.
Market due diligence

Use REW or MLA to do your own due diligence on the current market and to find a quality developer or project details on new developments. Familiarize yourself with the markets you're looking into across the Lower Mainland on the New Homes section of REW to get acquainted with current and future availability. You'll be an expert in no time.

2: Consider your options.
All things considered.
Pre-Sale Benefits
The second phase of the pre-sale journey narrows in on the most important considerations of a pre-sale purchase itself. It's important to think through payment structures, move-in timelines, and amenities before deciding if the pre-sale route is right for you.
Many of these considerations highlight more advantages of buying a pre-construction home. Pre-sales offer more flexibility in terms of payment structures, which is a massive factor for many buyers. Not having to put down your full deposit all at once and making payments over a set schedule is extremely attractive for many homeseekers. Move-in timelines are another consideration since pre-sales allow you to lock in today's prices for a future development.
Pre-sale purchasers should also consider their amenities. Buyers benefit from the ability to select their top choice of customizations for their unit. Remember that new pre-sale units will include bonuses like on-trend colour scheme designs and brand-new appliances that most resale properties won't offer. You can't predict when routine maintenance will arise on a resale, but for pre-sale properties, you'll be able to rest assured that time is on your side.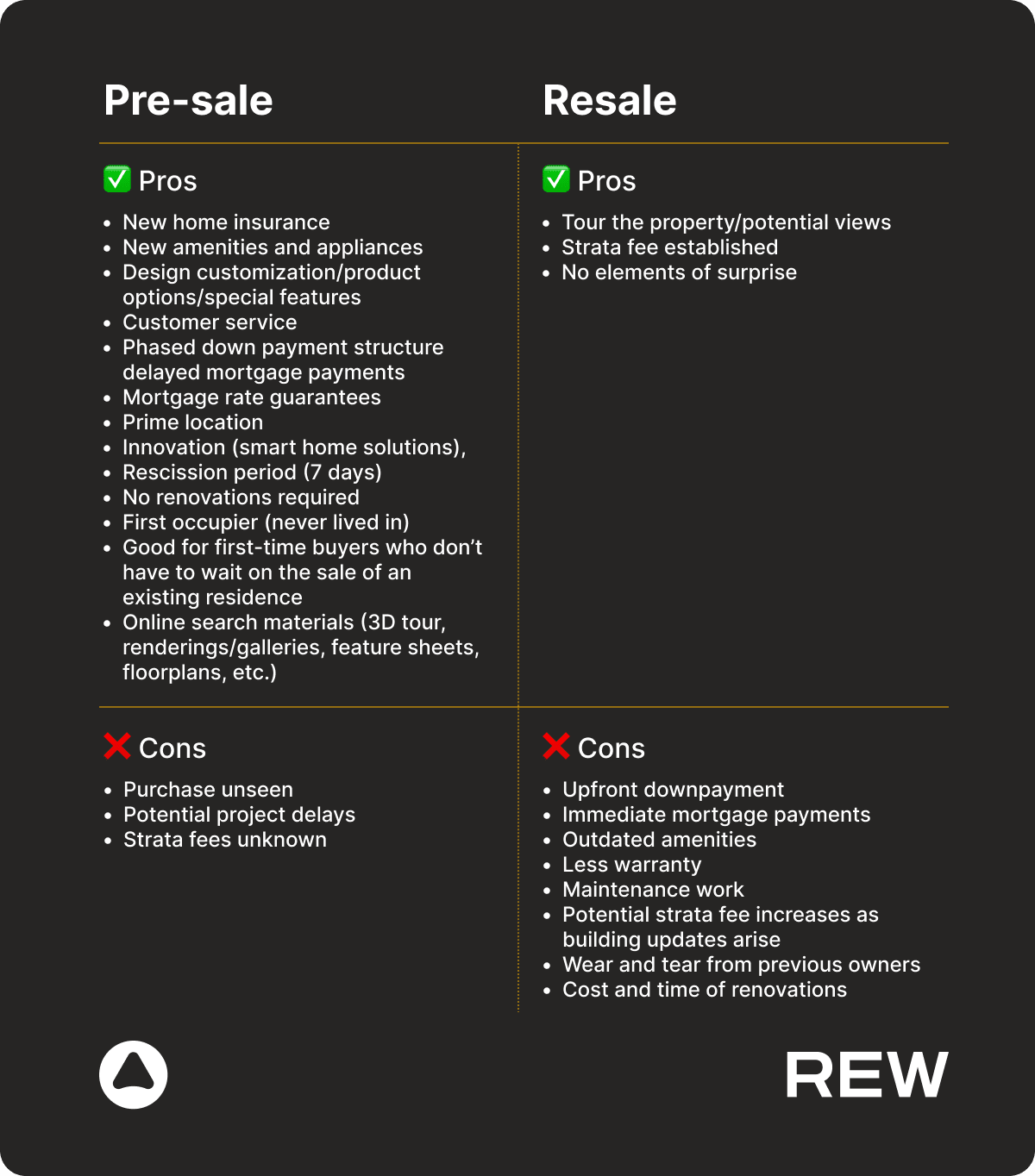 New Home Warranties
Insurance is a significant consideration when purchasing a home, and thankfully with a pre-sale, consumer protection is addressed head on. Pre-sale units are covered under the 2-5-10 Year Home Warranty as per the Homeowner Protection Act, one of the strongest construction defect insurances in Canada. The coverage residential builders obtain must be provided by a company approved by the BC Financial Services Authority (BCFSA) and includes two years (labour and material), five years (building envelope), and ten years (structural). This insurance kicks in on the date of first occupancy or transfer of legal title (whichever comes first).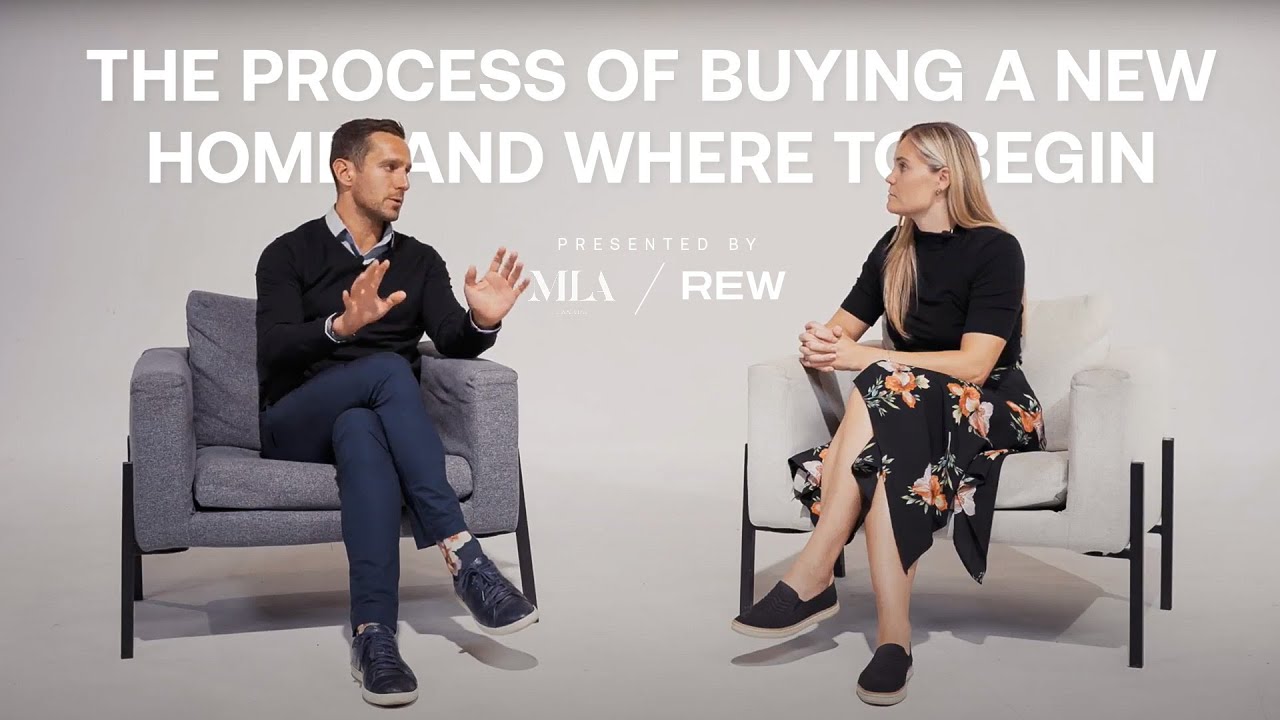 Pre-Sale First-time Home Buyer vs Investment Property
There's more good news for first-time homebuyers. There are also financial and tax advantages such as using the Home Buyer's Plan up to $35,000 from an RRSP account towards the purchase of a home, a property transfer tax exemption, the First-time Home Buyers' Tax Credit up to a $750 rebate, and the ability to lock in current interest rates avoiding further rate hikes.
If you're not a first-time home buyer, there are different implications to purchasing a pre-sale as a vacation or investment property. You'll want to budget out your purchase to ensure your regular mortgage payment is covered while being able to take on a second mortgage when the pre-sale reaches completion. Be sure you decide whether you'll be using your investment property for short-term rentals or long-term tenants. These are two very different use cases in terms of property use and location (a place to vacation vs. a place to live) and being able to upkeep the property yourself through tenant agreements as opposed to hiring a property manager (plus obtaining landlord insurance). There can be tax advantages to renting out your investment property in terms of claiming expenses relating to rentals, be sure to speak to an accountant if you're taking action on this.

3: Resources and help.
Tools of the trade.
Involved Professionals
Next, let's discuss some ways you can get help along the journey to buying a pre-build. You'll need to speak with several professionals throughout the pre-sale purchase process. A real estate agent, lender, home inspector, insurance provider, and lawyer are the most common. You can choose to work with an agent or visit a presentation centre to work directly with the sales agency representing the developer.

Below is a summary of the pros and cons of both options.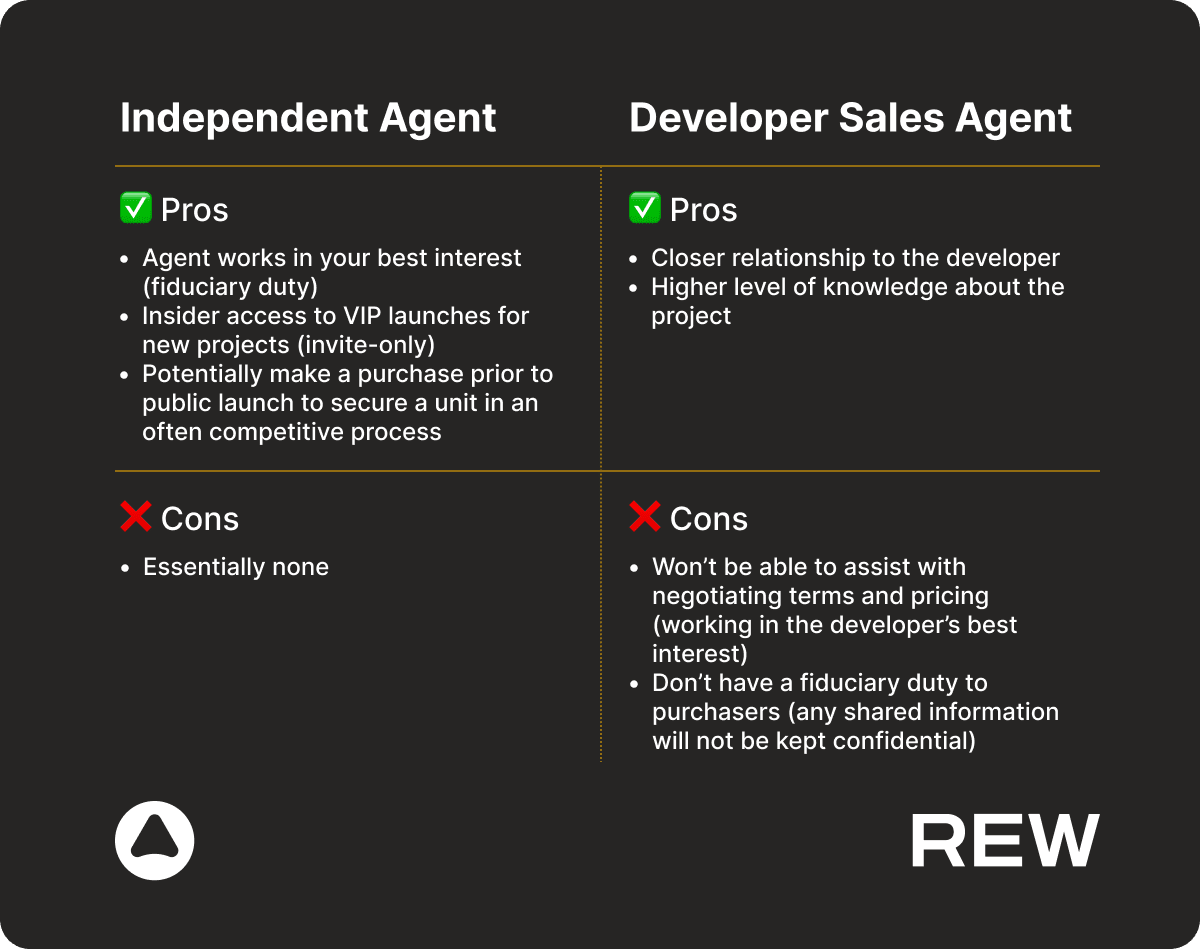 Disclosure of Representation forms between the two parties will outline the relationship between the purchaser and the agent. You can still choose to work with an independent agent and then visit the presentation centre with them or ask your agent to gain as much insight from the developer sales agent as possible. Whichever route you take, it's essential to ask your agent as many questions as possible.

As a starting point, ask about the following:
their history and experience with pre-sale transactions
the project and financing timelines
the project location attributes
tour options
building facts, storage, and parking,
floor plan options (layout, sun exposure, views, etc.)
customization options (finishings and colour palettes)
rescission period details (you have 7 days to cancel a purchase without penalty in BC)
other recommended professionals to use throughout the process
expectations post-purchase.

Prior to signing with an agent, you always have the option to obtain complementary advisory services from a third-party new homes guide such as REW or MLA and the option to browse through our extensive list of agents before proceeding with a transaction.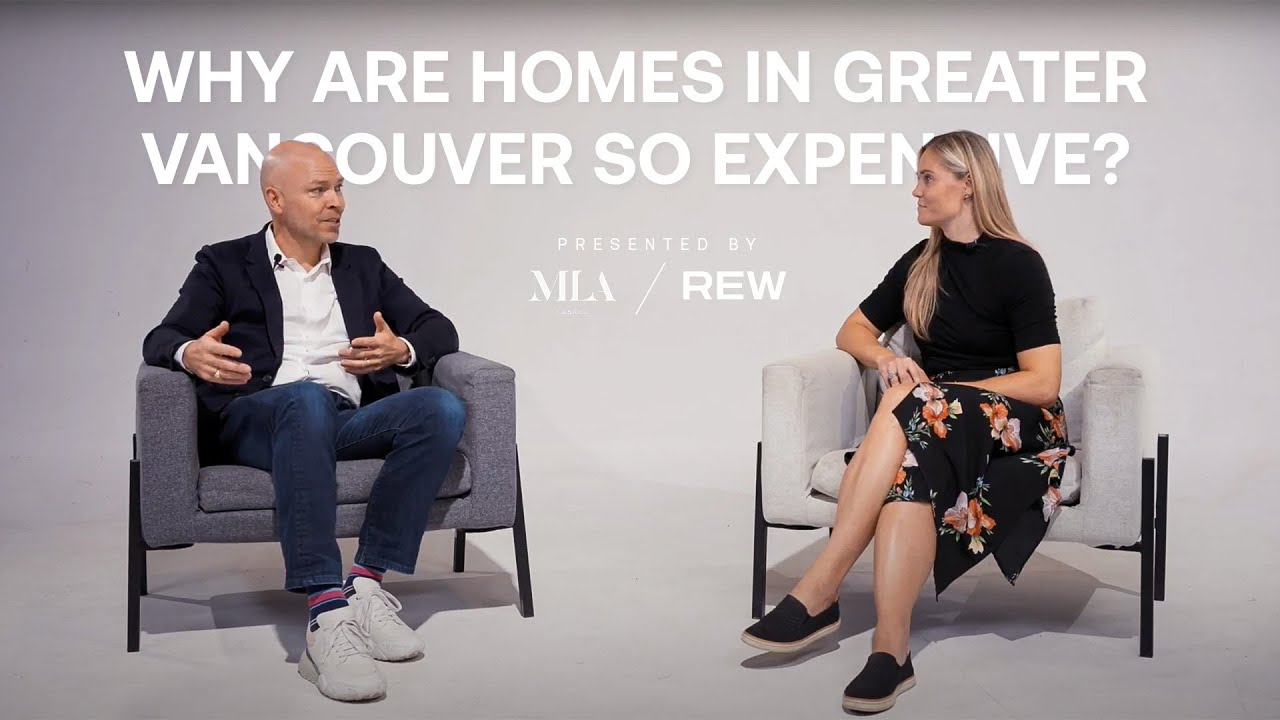 Pre-Sale Resources
Even before searching for an agent, it's a good idea for prospective buyers to understand their budget and seek mortgage pre-approval from a lending institution or obtain quotes from several lenders. This step will ensure buyers receive the best rate and terms possible, and let them know what they can afford. Buyers can learn more about mortgage options and speak to a money advisor at REW to ask questions before committing.
You should also review a first-time home buyer checklist as a resource to follow. Speak to your agent about the list and make sure you understand what kind of neighbourhood your pre-sale home is in, market insights, your wants and needs, transaction-related details, and all upcoming costs so there are no surprises down the road. In particular you should have a grasp of the costs at time of purchase and costs that come after your purchase.
4: Decision time.
The dotted line.
Pre-Sale Legalities
The fourth phase of the pre-sale journey begins when you're ready to make a purchase. Review all legal implications of a pre-sale purchase and ensure you understand things that may be new to you (like rescission periods, documentation, strata and deficiency walkthroughs, which we explain below).
A pre-sale can be purchased before construction, during construction, or upon completion. Always review required documentation like the property disclosure statement and have legal counsel review the pre-sale contract before committing to a purchase.
It's also important to ensure your agent reviews the Purchase and Sale Agreement and Buyers' Agent Agreement. The rescission period is a good time to review all of this documentation again and to familiarize yourself with expectations upon closing, such as deposit submission, deficiency walkthroughs, and taking possession.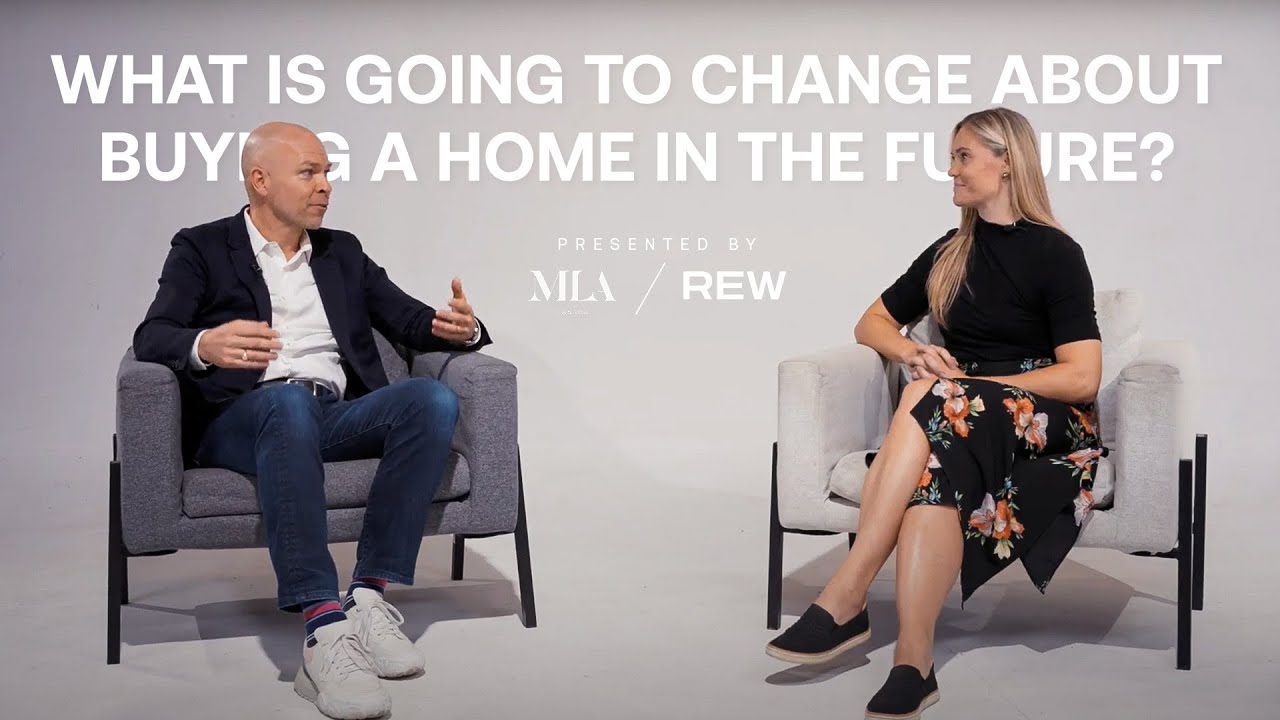 Strata Councils
Strata Councils run the strata corporation and manage how the building is operated, including maintenance, budgeting, holding regular meetings, preparing financial statements, enforcing bylaws, and hiring cleaners, property managers, and security if required. Strata Councils are formed differently depending on the size of the building, and both new and existing residents are eligible to run for council, usually under one-year terms.
5: Afterwards.
Happily ever after.
The final phase of the pre-sale journey involves anything that may come up following the pre-sale purchase and may include reaching out to the developer's customer care team about your new home. It's important to note that there are three types of home insurance: basic, broad, and comprehensive. There may also be other services being looked into post-purchase such as property management or moving company contacts. Doing your due diligence will ensure you find the best partners for the job by finding preferred service providers used by professionals you trust.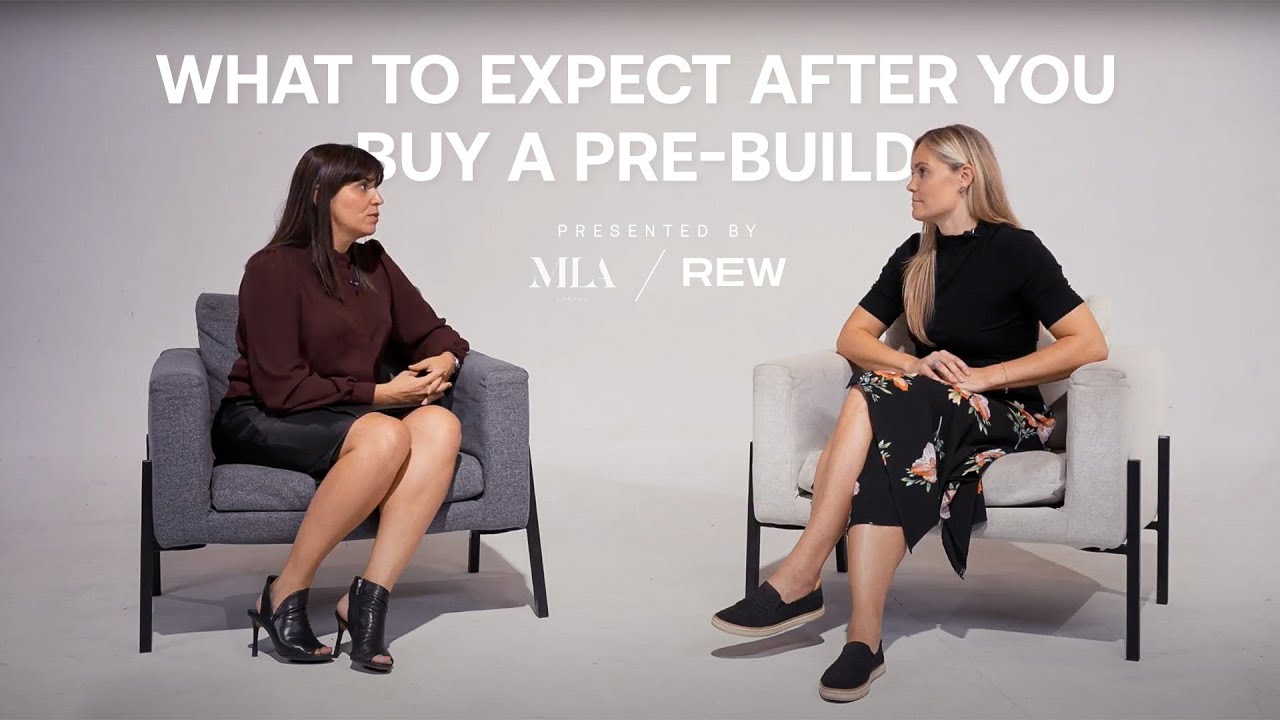 REW is always here as a guide to offer you insight, no matter where you're at on your journey. Whether you're purchasing a resale or pre-sale property, refinancing, selling or renting, we're here to help guide you through the process.