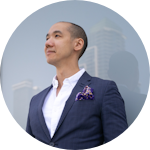 REAL ESTATE ADVISOR, FOUNDER & PRINCIPAL
Marketing Aficionado. Real Estate Connoisseur. Trailblazer.

He is the visionary behind EMPYR. With over 8 years of valued insight and experience, Tony is consistently ranked in the Top 10% of all Greater Vancouver Realtors, and is the founder & principal of the top producing EMPYR Living Real Estate Group.

His... Show More
REAL ESTATE ADVISOR, FOUNDER & PRINCIPAL
Marketing Aficionado. Real Estate Connoisseur. Trailblazer.

He is the visionary behind EMPYR. With over 8 years of valued insight and experience, Tony is consistently ranked in the Top 10% of all Greater Vancouver Realtors, and is the founder & principal of the top producing EMPYR Living Real Estate Group.

His diverse clientele is paired with an impressive portfolio, working with buyers and sellers of dynamic backgrounds. Tony is also highly sought-after for his distinct expertise in marketing custom built homes, and boutique presale development projects.
To contact Tony, call 604-889-3368.
Show Less
Sutton Group - 1st West Realty
8 Years Experience
Fluent In Cantonese, English