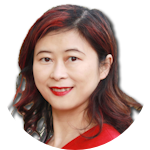 Testimonials:
http://yannicadai.my-ubertor.com/Testimonials.ubr
Since becoming a realtor in 2013, Yannica has worked her way to the top 10% Realtors in Greater Vancouver in 2019, 2016, 2015, and 2014. She specializes in North Vancouver, West Vancouver, Downtown, Metrotown, and Brentwood.

Yannica is friendly, reliable, sales oriented, experienced, kn... Show More
Testimonials:
http://yannicadai.my-ubertor.com/Testimonials.ubr
Since becoming a realtor in 2013, Yannica has worked her way to the top 10% Realtors in Greater Vancouver in 2019, 2016, 2015, and 2014. She specializes in North Vancouver, West Vancouver, Downtown, Metrotown, and Brentwood.

Yannica is friendly, reliable, sales oriented, experienced, knowledgeable, and a strong negotiator in property transactions. She works very hard and is trustworthy! She always keeps communication open by working day and night, and weekend!
Her husband, Larry Kroeker, a long-term sales & management personnel, joined her real estate business and became a licensed realtor in 2016. He has made great contributions in doing many showings, open houses, and maintenance of the managed properties. Yannica and Larry have been savvy real estate investors themselves in the past 20 years. They have done many real estate transactions, rental management, renovations, and building house for their own use. They know what a home Seller/Buyer/investor wants and their challenges because they have been there many times. They naturally have great passion in real estate business and this is absolutely not just a job for them. They regards your priority as their priority and your concern as their own concern. Yannica and Larry is a great team to work with!
On the Selling side, Yannica utilizes excellent strategies to sell your home quickly, safely with great price and term. The sales record has been proved again and again. She is experienced and skilled. She can help you to move to your new home smoothly, without any more stress!
On the Buying side, she helps you to do many due diligent checks and will always pin point out the pros and cons of each property. She is never a realtor who rushs you into a buying decision. However, when seeing a suitable property, she will provide her frank opinion. She also not only helps you to purchase a property, but also can rent out and manage the property in certain areas for you. She can make your life simpler so that you can enjoy life more!

Yannica speaks fluent in English and Mandarin. Her past work experience can also be great asset to you! Before becoming a realtor, Yannica worked at two Canadian major banks ( RBC and HSBC) for 13 years. Her last position at HSBC bank was a Premier/Senior Account Manager for five years. Yannica used to have Personal Financial Planner Certificate and Mutual Fund License. Yannica's senior experience and knowledge in mortgage, investment, and Financial Planning will definitely be assets in contributing to your buying or selling. She also has accumulated a good base of clientele and this can help the marketing to reach a broader base of customers.


Yannica是温哥华地区的房地产买卖和房地产租赁持牌经纪人. Yannica 是北温,西温的房产专家,对市中心,Burnaby的Metrotown, Brentwood的房屋也很精通。
Yannica对人非常热情,亲切,真诚, 有良好的投资理念, 对房屋买卖程序, 贷款程序非常熟悉,具有极强的谈判协商能力, 是加拿大大温地区多个城市房屋买卖的资深人士. 她工作勤奋, 让人信赖. Yannica 可以帮助你找到一个适合你的家居住, 也可以帮助管理你想出租的房屋, 让你的生活更加简单和美好.
Yannica的先生,Larry Kroeker,是一位生长在加国本地多年的销售和管理人士。他在2016年也拿到地产牌照,妇唱夫随,成为Yannica最得力的工作和生活上的支持者。他们自己在过去20年里也有很多次的地产投资,包括出租,装修,盖房,所以他们完全了解你的需求和挑战。他们对地产买卖一行报以极大的热情,而不是把它只是当做工作来做的。
在成为房地产经纪人之前, Yannica曾在加拿大的两大主要银行(RBC皇家银行, HSBC汇丰银行)工作了13年.她最后五年在汇丰银行任职贵宾客户经理, 专门负责为高端客户设计融资方案, 申请贷款, 和进行其它投资, 比如基金, 股票. 过去13年来, Yannica曾经帮助了上千人的客户, 使他们的买房, 投资目标得以成功实现. Yannica除了拥有地产经纪人和房屋租赁的牌照外, 还曾经拥有加拿大个人财务规划师的认证和销售基金的执照, 所以 Yannica在地产, 出租, 贷款, 投资方面的综合知识和能力一定可以全方位为您服务.



Testimonials:
I had the pleasure of Yannica Dai and her partner Larry give myself a sales presentation of my Coal Harbour condominium in late July of 2020. They were unlike any real estate agent as they complimented my unit before we started the sales conversation. They listened to my concerns and wanted to work for my best interest and showed myself sincerity. I gave them the listing and then saw professional work ethic that hardly exists anymore take place.They showed respect and followed the strata policies and took all clients seriously during the showings with follow up. Interest built quick and a sale was made and properly negotiated without any stress.
Finding a new home can be difficult as well but there talent shown through again and I received a double blessing with them finding me the place right for myself at this time. Yannica even said she was going to upgrade myself from where I already lived and I was skeptical. Sure enough she was right and it happened! 🙏 Thank you for your positive attitude through this whole process as it so amazing for a dream to come true.
I am so excited to live in my new premise! Thank you again for your professionalism. If you ever need a referral please don't hesitate for anyone to call myself as I would be proud to promote your services.
Michael Kreviazuk – Aug 2020
"Yannica and Larry went above and beyond to sell our home at a great price in very little time! From day one, they provided us with their outstanding professional services which included excellent-quality photography and video of the home and deep knowledge of the real estate market. They made the process as stress-free as possible from start to finish, answering our questions right away and maintaining excellent communication throughout, which is crucial when you're selling or buying a home. Thank you, Yannica and Larry; we'll be recommending your services to family and friends!!
Maria and Luca—May 2020
Yannica是一位相当优秀并且专业的房产经纪人, 她的耐心解答各方面问题以及对房产市场了解的细致度让我们在最短的时间里挑选到最合适的房屋。更重要的是, 她的市场分析能力以及议价战略上的能力,帮助我们用满意的价格买到了最合心意的房屋。
Danny Leung Apr 2020
Yannica helped me find the perfect house for my family. She understands the local housing market and knew what we were looking for, giving us good advice on the value proposition for each of the properties that we viewed. Once we found the house we wanted, she worked quickly to prepare our winning offer in competition with another interested party. With her background in banking, she provided excellent advice and support during the closing period and was always available to answer questions on the process. Based on our experience, Yannica will put your needs as her top priority.
Vivian and John – March 2020
Yannica 真是非常感谢你!通过方梅认识了你,在还没有和你有任何正式委托的情况下,你无私地给予我最及时和专业的帮助,每次和你联系,你都能快速给予最专业正确的帮助。接下来要正式委托你给我的房子出租或者买卖,那么我是百分之百地信任你的专业和服务,一切都拜托了!也祝你在自己热爱的工作中得到更大的快乐满足,也祝你身体健康家庭幸福🌹
在我最迷茫困难时候你给予的无私帮助,真的铭记在心[Hug][Hug][Hug]
HongHong Wang ----Dec 2018
Yannica, 认识了你是我的荣幸,你的真诚做事方式和善待他人的一切都是大家有目共睹的!谢谢🙏!
Stephanie Feng -- Dec 2018
Yannica 非常庆幸在我们买房子整个过程中有你的参与, 感谢你那么上心🙏遇到你我们很幸运. 也祝你们全家 圣诞快乐🎅新年快乐🎉🎊我们以后多联系 我也多介绍 客人给你哈 !
Emily Li – Dec 2018
我的房子出租,管理和最后的買賣都是Yannica 經手的,而且還是在我不在加拿大的時候。一個如家人般值得信賴特別有智慧的經紀,兼具細心和耐心,不畏辛苦和麻煩,專業的典範。再一次深深感謝你的幫助,Yannica。-- D. Zhang 2018
Yannica knows North Vancouver like the palm of her hand. She quickly located couple of great options for me in a short period of time. And the closing of my house, which now has turned to be my new home, went smoothly as well. She is well connected, professional, nice and very easy to work with. I give my recommendation for her service.
CEO of RDF Investment Group Betty Li – June 2017
I first met Yannica in her capacity of a Premier Account Relationship Manager at HSBC. At that time she struck me as a very knowledgeable and professional person with a very personable demeanour.
She's carried her business acumen and very personal approach over into the realty world extremely well. She recently completed a significant purchase for us and we we're impressed by her knowledge of the market, current trends, the local area where we bought and the intricacies of the process. Working us through an appraisal process involving numerous properties she worked closely with us to find the perfect solution. After that the purchase process ran like clockwork and to top that she turned out to be a strong and determined negotiator closing an excellent deal for us.
I'd highly recommend Yannica if you're looking for sound advice, a stress free process and a great end result.

Patrick Cannon 2016
We can't say enough good things about Yannica! Yannica is an incredibly organized and efficient real estate agent. We had tight timelines and she was able to organize many viewings without overwhelming us.
Yannica is incredibly knowledgeable and would point out aspects of the condos, both negative and positive, that we wouldn't even think of about. She was able to manage my partners expectations (investment) and my expectations (comfortable home) and showed us places that met both of our needs. Yannica has a keen eye and can spot the great opportunities.
She went above and beyond our expectations and made the whole process as seamless and easy as possible.
Thanks so much Yannica,
Jill & Jordan 2015
In order to make the purchase and sale go smoothly, I decide to choose a Realtor by my criteria:1 Has good knowledge with the housing market in my area. 2. Put my interests first. 3. Have strong negotiation skills. 4. Have excellent communication skills in both English and Chinese. I was fortunate to have selected Yannica Dai as my Realtor. Within less than two months Yannica not only helped me buy an ideal property, but also sold my current house in the shortest time (two weeks) at an attractive price. Thanks to Yannica for giving me a huge relief to complete everything seamlessly before the end of 2015. I can now have a relaxed and happy 2016.
为了使买房卖房同时顺利进行,我决心按照自己的标准挑选经纪人。我需要的经纪人必须具有以下素质:1,非常熟悉温哥华地产;2,客户利益放在首位;3,有极强协商能力;4,了解并融入当地生活,精通英文;十分庆幸我找到了这样的地产经纪,她就是 Yannica Dai.短短两个月时间, Yannica不仅帮助我找到了中意的房子,还以满意的价格和速度卖出了现有房屋。感谢Yannica让我解除后顾之忧,轻松愉快迎接新的一年。

Naiting Liu Dec 2015
My purchasing experience tells me that it's equally important to choose the right real estate agent as well as choosing the right property. I really like the house Yannica helped me purchase and the value has already gone up quite a bit. I appreciate Yannica's hard work! 我的买房经历告诉我, 选经纪和选房是同样重要的事. 我很幸运碰到Yannica, 一切都是那么美满! 她帮我挑的房子我很喜欢又已经升值很多. 感谢Yannica的辛苦工作!

Ying Shen Sept 2015


I can not overemphasize Yannica's professionalism, and innovative approach to problem solving. Her friendly style and humble demeanor make me confident that she is looking out for my best interests. I believe that she will continue to be successful in delivering opportunities, and will consistently work as a strong advocate for her clients—in any industry. I look forward to working with Yannica again on future ventures.
Nestor Balce 2013
I have been Yannica's customer for more than 5 years. She is distinctively professional, skillful and efficient when providing her service. She is also friendly and responsible to her customer. Thus I strongly recommend her service.
Sue Zhang 2013
Yannica has been instrumental in putting together many deals and loans for me over the years. She always goes the extra mile to find the very best terms and options available. She's courteous, friendly and professional, the epitome of customer service.
Steve Brooks 2013



Show Less
Sincere Real Estate Services
8 Years Experience
Fluent In English, Mandarin