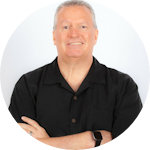 Associate
Century 21 All Stars Realty Ltd
Serving my Clients Real Estate Aspirations for over 25 Years
Buying and Selling Real Estate is 1 of, if not the Largest Investments we make in our lives. For that reason, I take a Simple, Clear, Concise and Relaxed Approach with Every Client to Ensure their Real Experience is the Best it Possibly can be. Whether it's your 1st or your 15th property that we are Selling or Buying, Every Real Estate Transaction ... Show More
Buying and Selling Real Estate is 1 of, if not the Largest Investments we make in our lives. For that reason, I take a Simple, Clear, Concise and Relaxed Approach with Every Client to Ensure their Real Experience is the Best it Possibly can be. Whether it's your 1st or your 15th property that we are Selling or Buying, Every Real Estate Transaction we engage in is just as important as the last one!
Over the past 28 years, my Clients consistently continue to Entrust me with their Real Estate matters and Respectfully Refer their Family, Friends and Co-Workers to Ensure they receive the same Highly Knowledgeable and Pleasurable Experiences. Real Estate Transactions can be Very Complicated with many Surprises at any turn, but with my Vast Knowledge of the Entire Industry there is No Challenge We Can't Successfully Overcome Together.
I always look forward to building New Relationships with anyone pursuing their Real Estate Ventures so reach out any time. I would be Happy to have a conversation with you to see if I fit your profile of the Professional you Want to Entrust your Business with.
Cheers!
Brad Warkentin
Show Less
Century 21 All Stars Realty Ltd
29 Years Experience
Fluent In English